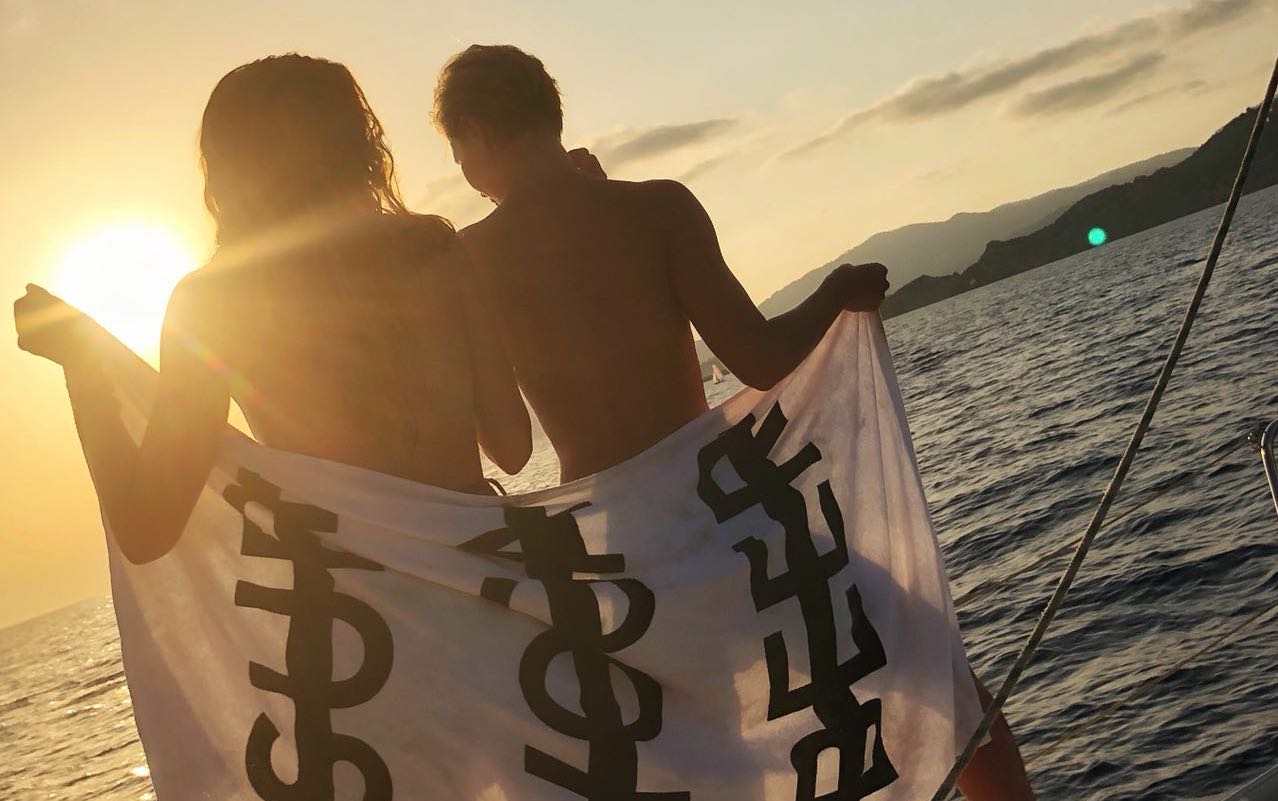 WORKOUT | PARTY
• Aug 18 - 24 (7 DAYS - BOXING WEEK) •
• Aug 24 - 31 (8 DAYS - WEEK 1) • SOLD-OUT
• Aug 31 - Sept 7 (8 DAYS - WEEK 2) •
• $2,600 Single Person (Deposit + $2,100) •
• $3,400 Private Room (Deposit + $2,900) •
• $4,000 Private Room (For Two People) (Deposit + $3,500) •
Purchase a deposit to reserve your spot
Calling all beach babes and 'not-so-broey' bros!
We're taking it past the nights crammed on the dance floor of that mediocre club, drinks spilling and randos sweating. This won't be the bootcamp that your mom raves about at her local women's gym. This is Ibiza, SYB style. We're working out to change the mind, body, and soul and push past our limits. We're partying on the island that is known for its crazy nights and vibrant energy. Between planks and Pina Coladas, we'll be exploring Ibiza's culture and everything it has to offer.
Our days will be filled with workouts and yoga sessions, meals to feed the soul, and optional day adventures around the island. This Spanish paradise will serve as the perfect backdrop for our trip, as we'll respect the natural habitat while utilizing the environment for our bootcamps, yoga poses, and training sessions! We will explore the island on sunrise hikes, day pool parties, and afternoon boating excursions.
*BOXING WEEK: the same SYB vibes with the addition crazy, sexy & cool boxing lessons by Shadowbox Master Instructor Rad Lopez.
We will of course be taking advantage of Ibiza's world renown nightlife! Expect the ultimate (and optional) nights out with the top DJs in the world. It's all about balance, baby!
Let's put the fun back in fitness and enjoy a week of practicing a balanced lifestyle, soaking up some Spanish sun, and raising a glass to new friendships on this incredible adventure!
Day 1 - ARRIVAL
---
Adventure starts at 5pm, if you arrive early we'll be hanging out at an SYB favorite location TBA later. We'll get to know our beautiful home, location and new friends with a few games followed by dinner at the house by Salud!
Day 2 - FULL SYB DAY
---
We start with some light snacks, bootcamp around the house and finish by jumping in the pool! Delicious smoothies and brunch to follow. Today we hike Cala Llonga Playa, a nearby beach that is also our favorite! The hike is only 30 minutes to the top with views that will be sure to make your Instagram! After we'll chill at the beach, grab lunch at the local spots and around 4/5pm head out to get ready for the real Ibiza! At the house we'll preparty, pass out glow sticks, play some DJ's to get us pumped and head out to Ushuaia. This is the club that is outdoors next to the airport that has planes flying over while thousands of people dancing to a DJ show you'll remember for the rest of your life. This place closes on the dot at midnight so we'll go grab food at our favorite restaurant and head back from our first full day of #SYBIbiza.
Day 3 - BOAT DAY
---
Some of ya'll went kinda hard the night before so we won't wake you for the morning bootcamp and yoga session. BUT you better be awake for the breakfast and departure for our boat day! We head out about 11am for our boat day to Formentera (only the most beautiful island you'll ever see in you life). All day we'll cruise by yatchs with celebrities (it's August what did you expect), stop on Formentera for lunch and a swim and head back! By far one of our best days, very chill, very chic, very SYB. Dinner is at home by Salud around 10:30pm (yes everything is late, get used to it, this is Spain).
Day 4 - SUNSET ASHRAM
---
Breakfast isn't until 11am, sun is shining, you're glowing from that yesterdays boat day, and today we break a serious sweat. Our workout will be from noon until 2pm. Our workout will end with a run to Cala Llonga our nearest beach for a quick dip in the Mediterranean sea. We'll go through a workshop on self love, millennial meditation, and opening up. There will be breakthroghs, tears, and a lot of love right here. Then we chill, yes finally chill by our pool, read a book, shoot your Instagram video, or just catch up on sleep you party animal you! At 5pm we leave to Sunset Ashram, this is the golden spot to watch a sunset. We'll have dinner, play beach games, drink champagne, listen to a saxophonist play with a DJ and make love to you ears. For those that are up for it, we'll head into town for one of the many iconic clubs to keep the party going!
Day 5 - DETOX2RETOX LIFE
---
We get it, no wake up calls, and breakfast is ready whenever you want... let's call it brunch... Take your time, hydrate, then let's boogie with a sexy workout and deep yoga session. Lunch will be at Amante, a beach club known for chic style of amazing lunches not far from our home. The beach is beautiful the food is amazing and our house is walking distance if you're looking for a beautiful walk. After lunch we'll shuttle everyone to nearby Santa Eulalia del Río for a walk around town. Tonight we'll party at Ushuaia again, that open air club with an Spanish sunset is what life. Afterwards we'll take the party straight to Hi Ibiza for the afterparty that goes until the sun rises, of course after these workouts we'll probably be taking an earlier ride home.
Day 6 - EIVISSA
---
One of latest days to wake up, we're guessing you'll be waking up around 12/1pm? We'll go easy with restorative yoga to start, a big breakfast to fuel, and partner workouts for motivation. Afterwards we'll spend time on a few excercises such as writing letters to ourselves and other goal coaching things. We'll chill for a few hours, then getting ready for our night exploring Eivissa old town. We'll walk up the old castle, shop the Eivissa styles, and have dinner at La Bodega, literally the best restaurant on the island, you'll see! Side Note: Dinner in Ibiza is usually 11pm-1am. After dinner we'll head out to keep the partyyyyy going if you want.
Day 7 - BLUE MARLIN
---
Take it easy, enjoy the routine and habit's we've built. The daily workouts will by now be ingrained in you. After our workout we'll head to Blue Marlin around 3pm. This was by far the favorite spot for many people from previous trips we've had. The party goes from beach side chill to fog machine lazers in a matter of hours right before your eyes! Tonight we'll end this party a little early (9pm) and go home for our closing ceremony!
Day 8 - RETURN HOME
---
Everyone will be checking out at 9am the latest, we'll have one shuttle taking people to the airport at 9am if you need to be dropped off in town or hold you bags at a hotel we have recommendations for you!
Until next time... or until we throw our next party because this friendship just started!
INCLUDED HIGHLIGHTS
Catamaran tour to Formentera

Hiking Cala Llonga

Nightly club tours of Pacha, Ushuaïa, Amnesia, Hï Ibiza, Swag, Blue Marlin and Amante

Explore the beaches of Sa Caleta, Cala Conte and Cala Llonga

Shop in Evissa
REGULAR INCLUDED
Seven nights accommodations

Airport transfers and all transportation on the itinerary

All fitness programming (includes bootcamps, yoga sessions and runs)

A majority of meals (7 breakfasts, 4 lunches and 3 dinners)

As much alcohol you can drink (don't test this)

SYB Welcome package (including SYB swag as well as giveaways from our sponsors)

Services of SYB Adventure Leaders

Personal photographer + videographer
NOT INCLUDED
International flights

Club entrances

3 dinners in town

Drinks at bars

Lunches in town
ACCOMODATIONS
Secluded in the hills near the most beautiful beach Cala Llonga and just 15 minutes from Ibiza town. We have day beds, a dining table enough to seat all 20 of us and AC bedrooms for those hot steamy nights!
Can you handle it?
Almost everyday you can expect morning workouts, sunset yoga, optional runs, and since this is Ibiza - lots of clubs and parties! You can always take it at your own pace, skip workouts or adventures and stay back at the house.
If you have an open mind and a sense of adventure we believe you can easily handle this advenure!
Going Alone
Yes, in fact that is recomended. We'd love you to be whoever you want on this adventure and bringing a friend could also bring old habits.
But we understand it is intimidating and hard because you feel like you don't know anyone... trust us, this is the way to go!
Flights
TBA
Registration + Payment
Deposit: Your $500 deposit is used to secure your spot and goes toward your full payment. Your deposit is non-refundable or transferable.
The remaining balance is divided into three additional payments with the full payment due 30 days prior to the adventure's start date.
Trip credit (less deposit) may be transferred towards a future trip (within 12 months) up to 30 days prior to the start of the trip.
Please note that there are absolutely no refunds or deposit transfers for cancellations within 30 days of the trip. We strongly encourage all participants to purchase trip insurance just to be safe.
Where are we staying?
Right next to Cala Llonga (our favorite beach) and about 15 minute drive from the center of town and the clubs, this is the ultimate location because we'll also be secluded to party and workout as much as we need!
Self Care
We'll be doing some partying throughout this trip that require a bit of self awareness of the surrounding area. We'll keep a good eye on you, and we'll implement the buddy system but ultimately you are an adult and are responsible for yourself.
Dehydration is a common cause of feeling unwell. We require everyone to bring their own refillable water bottle and drink lots of water.
Avoid drinking too much alcohol. Nobody wants to have to look after a drunk person. We'll be waking up later in the day (no early morning wake up calls here) but you still want to avoid Ibiza hangovers. You don't want to miss out on the day activities if you are trying to recover from the night before!
Your skin will burn easily get the proper gear, and protection!
Food
We're brining our food partners SaludNYC on this adventure. Expect delicious breakfasts, lunches, cocktails and dinners!
Safety and Security in the Region
There has been no incidents that we've heard of or come across that would have us concerned. You are safe in the area and very safe if you stay with us.
Sleeping Arrangements
We'll assign you to a room and roomate according to your pretrip form. Please let us know if there are any special requests.
Bathroom Situation
DO NOT FLUSH ANY PRODUCTS, INDCLUDING PAPER, DOWN THE TOILETS.
This is a kind of a third world country and the sewage is not the same as the US. There are waste baskets next to bathrooms, please use those.