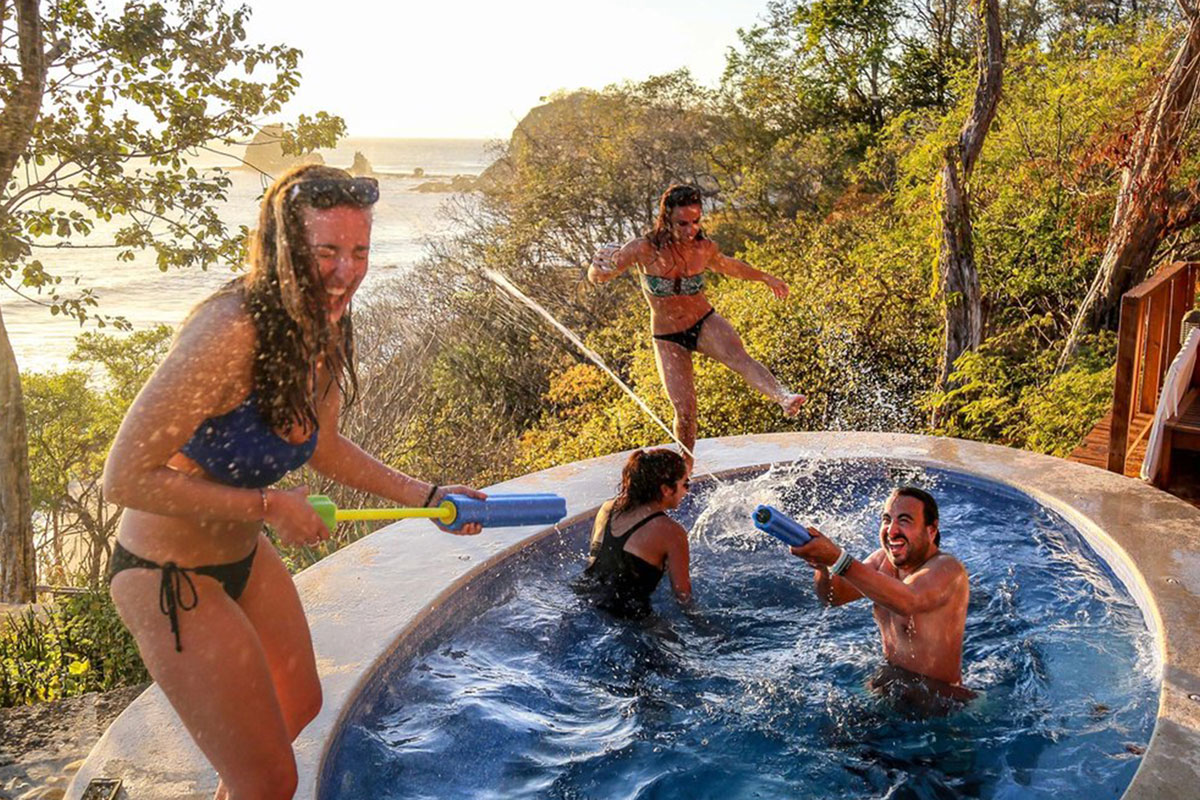 SURF | YOGA | NYE
• Dec 27 - Jan 2 (7 DAYS) •
• $2,600 Single Person (Deposit + $2,100) •
• $3,500 Private Room (Deposit + $2,900) •
Purchase a deposit to reserve your spot
This is what life is about- calming ocean sounds, cool breeze, and warm nights on a beach that is basically all ours. Nicaragua is an undiscovered paradise and we've planned out the perfect adventure- all you have to do is show face! Not only will you be surrounded by badass people craving the same excitement as you, we've got a full itinerary of action packed days that will leave you at the end of the day hitting the sack harder than you ever have before. You'll realize just how much pleasure can come out of life, while also ditching the frigid winter at home. Get ready to have the time of your life, learn to surf in one of the most picturesque places in the world, appreciate this beautiful life of yours, and grub on some serious food porn.
Dec 27th ARRIVAL
---
Flight information coming soon. Arrive early, we'll let you know about the SYB van transfer to Playa Maderas from Managua, about a 2 1/2 hour drive.
We'll get to know each other and our amazing location. Dinner is served at 9pm, dancing is rampant, and lights go low and the disco balls come out. Where this night takes you is your story, but this is just day 1.
Dec 28th WOKROUT AND SURF
---
Get ready to experience SYB to it's fullest. We begin with wake up calls, more on this later, go straight into morning workouts, beach games, a dip in the ocean to clean up, and a hearty breakfast all before it's even 9am.
We'll take a chill moment to soak everything by the pool and later head to beach for surf lessons, tacos, a cold beer and a lot of good laughs with your new friends.
This is the night we head into town for dinner, bring your dancing shoes, or wait it's a beach town, shoes are not necessary!
Dec 29th SURF|YOGA|BEER
---
Similar to yesterday, just different workouts. After breakfast we walk down the beach to our surf lessons part two. Today we focus on surfing, standup paddle boarding, and anything water related!
We head back to our house yoga deck overlooking that same break we were just surfing on and enjoy a sunset yoga session. This is where the magic happens. Some of us will probably just be enjoying the sunset with delicious SALUD drinks in hand.
We have dinner at our home tonight and play fun games throughout the night!
Dec 30th CATAMARAN DAY
---
We take in a full morning of workouts then make our way to the marina for a full day on a catamaran. This is truly one of the highlights of this trip as we head to a white sand beach to snorkel, enjoy fresh food on the boat and enjoy drinks sailing into the sunset.
Dinner will be at one of the most beautiful restuarants over looking the beach!
Dec 31st FULL SYB DAY
---
Sleep in friends, we know last night was crazy. We'll start the day at 10am. But once we start, we don't stop - morning workouts, surf, pool time, sunset viewing deck yoga, and for our last night of 2019 we have a few suprises!
Jan 1st REFLECTION DAY
---
We'll wake up to a new year and new habits! We'll give you some time to recover but then straight into our workouts, yoga and salt water ocean therapy! We'll do some life reflection excercises to help set the right path for a new year.
This is our last night, so we'll do our awards, feast together and take it out with bang!
Jan 2nd BACK TO REALITY
---
Everyone will be checking out at 8am and be taking the SYB van to Managua airport by 1pm.
Until next time... or until we throw our next party because this friendship just started!
INCLUDED HIGHLIGHTS
Epic surf break in front of our accommodations

Infinity pool sunsets

An insane NYE party on the beach with fireworks

Surf + stand up paddle board lessons

Catamaran day + snorkeling in crystal clear water

Explore San Juan Del Sur
REGULAR INCLUDED
Six nights accommodations

Airport transfers and all transportation on the itinerary

All fitness programming (includes beach bootcamps, yoga sessions and runs)

A majority of meals (5 breakfasts, 2 lunches and 3 dinners)

As much alcohol you can drink (don't test this)

SYB Welcome package (including SYB swag as well as giveaways from our sponsors)

Services of SYB Adventure Leaders

Personal photographer + videographer
NOT INCLUDED
International flights

3 dinners in town

Drinks at outside bars

Lunches in town
ACCOMODATIONS
These villas are right in front of the famous shark fin beach of Playa Maderas. The property is gated and patrolled by security 24/7 so it is very safe, relaxing and all ours. There are hammocks to lunge on from long fitness days, breathtaking views from every villa, and an infinity pool for your sunset gram moments!
Can you handle it?
This is a tropical beach adventure, not a yoga retreat or luxury travel experience. But our property is very beautiful with very comfortable and clean rooms. As we're in the middle of the jungle you'll have to keep an eye out for bugs, tiny little scorpions, and spiders. As long as you keep the doors shut you should be good.
Almost everyday you can expect morning workouts, sunset yoga, obstacle course run throughs, and beach games. We'll be pairing that with big group dinners, nights out in town, and lots of dancing! You can always take it at your own pace, skip workouts or adventures and stay back at the house.
If you have an open mind and a sense of adventure we believe you can easily handle this advenure!
Going Alone
Yes, in fact that is recomended. We'd love you to be whoever you want on this adventure and bringing a friend could also bring old habits.
But we understand it is intimidating and hard because you feel like you don't know anyone... trust us, this is the way to go!
Flights
Please arrive at Managua Airport anytime before 2pm if you'd like to be on the included SYB transporation. Depart Managua anytime after 12pm, as it is a 2 hour drive and we'll be departing around 8am from our home.
Registration + Payment
Deposit: Your $500 deposit is used to secure your spot and goes toward your full payment. Your deposit is non-refundable or transferable.
The remaining balance is divided into three additional payments with the full payment due 30 days prior to the adventure's start date.
Trip credit (less deposit) may be transferred towards a future trip (within 12 months) up to 30 days prior to the start of the trip.
Please note that there are absolutely no refunds or deposit transfers for cancellations within 30 days of the trip. We strongly encourage all participants to purchase trip insurance just to be safe.
Where are we staying?
We are going to Villas Playa Maderas. They do not have an address so the best way to explain where it would be like this: 8 Km north San Juan del Sur, San Juan del Sur, Nicaragua.
What is the preferred currency in Playa Maderas? And how much should I bring?
Everyone accepts American money. But if want to, no need to exchange more than $100 US Dollars. If you love to buy souvenirs many places have ATM's and may even take credit cards. If you go into banks with your passport, you can also use your bank debit cards to withdraw larger sums of cash than the limited daily withdrawal amounts the ATMs allow.
Are the power outlets the same in Nicaragua as in the United States?
Nicaragua has the same voltage and frequency – 110V 60Hz - and uses the same plug and outlet designs as in the U.S. so you don't need an adapter or converter.
Self Care
We'll be doing some adventures throughout this trip that require a bit of self awareness of the surrounding area. Remember this is the jungle.
Dehydration is a common cause of feeling unwell. We require everyone to bring their own refillable water bottle and drink lots of water.
Avoid drinking too much alcohol. Of course you will want to enjoy a few beers and try some of the local rum around the first night, however don't make yourself a liability. Nobody wants to have to look after a drunk person. Tropical hangovers are a nightmare and you don't want to miss out on the day activities if you are trying to recover from the night before!
Your skin will burn easily in the tropics especially ya'll winter hybernating New Yorkers. Get the proper gear, and protection!
Food
We know this is going to be a huge highlight for you. We have a long 3 year partnership with New York's SALUD cafe, who prepares every breakfast and most lunches and dinners. Not only that but the cocktails themselves are worthy of those $17 specialty drinks from NYC. Also don't worry vegetarians and vegans, we cater to ya'll as well.
Safety and Security in the Region
There has been civil unrest with the country but it has not harmed any tourists. Most of the protests occur in the capital city of Managua and we'll be far away from that in the southern part of the country near San Juan Del Sur, which has been clear of any dangers.
Sleeping Arrangements
We'll assign you to a room and roomate according to your pretrip form. Please let us know if there are any special requests.
Bathroom Situation
DO NOT FLUSH ANY PRODUCTS, INDCLUDING PAPER, DOWN THE TOILETS.
This is a third world country and the sewage is not the same as the US. There are waste baskets next to bathrooms, please use those.