• November 7, 2019 - February 17, 2020 •
• Mexico (6 days) + Nicaragua (6 days) + Online Coursework (8-weeks)•
• Registration by Application Only •
It's time to get serious with some life-changing knowledge - this is our second Yoga Teacher Training! Two full adventures, 8-weeks online group study, and one big shift in your life perspective. Curated by Katie Burke (who's lead over 20 teacher trainings) and supported by SYB (over 50 worldwide adventures) you can expect the most life-changing experience of your life.
200-Hour Yoga Certification recognized by Yoga Alliance Registry ID: 254125
6 Days Mexico
6 Days Nicaragua
8 Week Online Program
4 Pillars Each Week
Advanced Asana Development

Energy & Subtle Body Exploration

Advanced Anatomy

Practical Application
Welcome to 200-Hour SYB Yoga Teacher Training. This in-depth training takes place in beautiful Ensenada, Mexico, followed by the comfort of your own home with the online portion and then finishes at the SYB flagship destination - Playa Maderas, Nicaragua. We chose to do a full retreat at the start of the training to create familiarity with your fellow pupils, who then will be working online with you for 8 weeks. Our training is finished with another full immersive retreat in Playa Maderas in Nicaragua to ingrain everything learned in the previous 3 months.
If you are feeling a shift in your life or have been looking for a program that combines an exotic escape with deep, yet playful, study, then this is the training for you. We start each day with a two-hour yoga practice, delve into the daily topics, practice teach, chant, and then have typical SYB adventures on our free time.
Katie Burke has lead over 20 Yoga Teacher Trainings and has worked extensively with Core Power Yoga and other studios to create a program unparalleled to any other 200-hour training. Our Yoga Teacher Training philosophy is centered around YOU. We provide you with the tools to find your own motivation to teach, develop your individual style, find playfulness and creativity within a sound understanding of anatomy and alignment, and ultimately inspire the next generation of yoga practitioners around the world.
Expect to learn, grow, and open your mind and body in ways you didn't know were possible. You'll experience tremendous growth as an individual and learn a whole new skill set. Your full participation in the training is required and will yield the best possible result for your teaching and path.
We can't wait to work with you on and off the mat!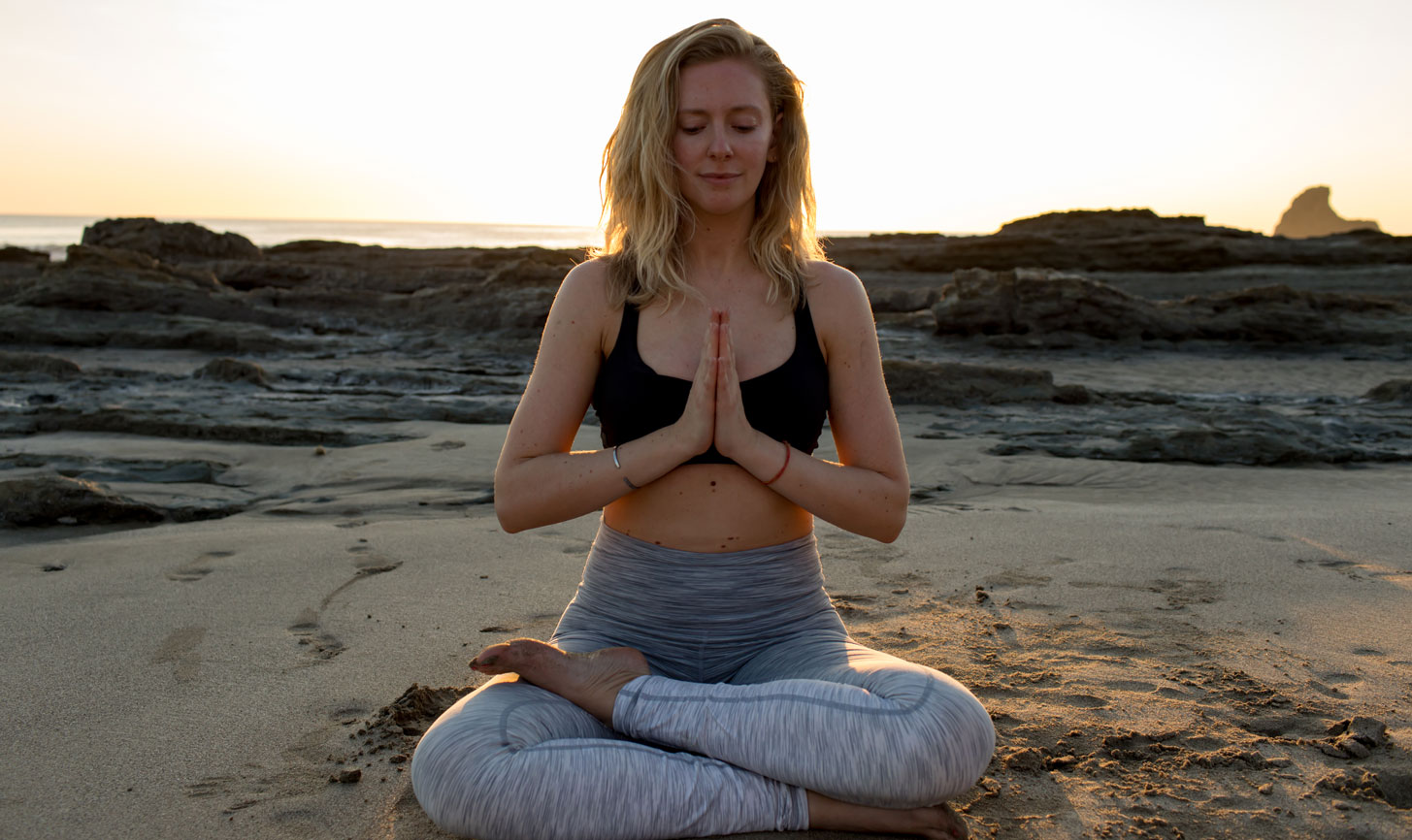 REGISTRATION + PAYMENT
Deposit: Your $500 deposit is used to secure your spot and goes toward your full payment. Your deposit is non-refundable or transferable.
The remaining balance is divided into three additional payments with the full payment due 30 days prior to the start date.
Trip credit (less deposit) may be transferred towards a future trip (within 12 months) up to 30 days prior to the start of the trip.
Please note that there are absolutely no refunds or deposit transfers for cancellations within 30 days of the trip. We strongly encourage all participants to purchase trip insurance just to be safe.
FULL COURSE
Earn a 200-Hour Yoga Certification recognized by Yoga Alliance: Registry ID: 254125 RYS® 200
Experiencing an unparalleled training in both Mexico and Nicaragua
Unlimited online support with Master Trainer Katie B and staff
Course syllabus and expectations
Weekly online lectures, quizzes, and fun interactives
Weekly live streamed personalized class with Katie B
Weekly deep investigation into chakra analysis and how it applies directly to your life
Balancing your personal chakras
Final exam to qualify you for Power Yoga RYT 200
Weekly deep dive into structural anatomy and how it applies to yoga
Personal training for your asana yoga poses
How to better understand your body as it applies to anatomy and healing your own body
Intro to meditation lecture and how to apply to life
Weekly meditations to practice
Understanding the root of lineage based practices and history of yoga
Learn the base sanskrit and how they apply to poses
Full understanding of the business of yoga
Live access to YogaGlo (with over 5000 classes)
Unlimited access to SYB Online Library of Yoga Videos
Access to a fun, like-minded community that becomes your family
Online forums to discuss, debate, and come alive in conversation about this 5000 year old tradition
SYB ACADEMY YOGA TEACHER CERTIFICATION
Full immersion with two separate week-long international retreats alongside an 8-week online program.
Join the SYB community of Yoga Teachers and host your own retreats through SYB.
Participate in SYB mentorship program by traveling around the world on different adventures.
With our certification, you will be eligible for personal liability insurance.
Understanding the business of yoga: how to run your own business or seek employment in gyms, clubs, studios, private training, and beyond.
Full understanding of the subtle body and how it applies to your life. This will help you find balance in your daily routines, and be able to give other people the knowledge to heal themselves from the inside out first
Personal development of your physical asana poses and better understanding of your human anatomy
Learn how to meditate
Understanding the root of lineage based practices and history of yoga
Gain knowledge on the base sanskrit words and how they apply to poses
Access to a fun, like-minded community that becomes your family (gain 20 new best friends)
Online forums to discuss, debate, and come alive in conversation about this 5000 year old tradition
Part of the proceeds benefit the orphanage we will volunteer at in Mexico, Casa Pequenos Hermanos
MEXICO WEEK
5 nights accommodations in Ensenada
Airport transfers to and from retreat
Immersive group study everyday
Brunch everyday
Wine Tasting Tour
Dancing Nights
Orphanage Visit + Volunteer
SYB Swag
Photos + videos by photographer
ONLINE STUDY 8 WEEKS:
Bi-Weekly Live Stream Chats
Weekly check-ins
Full one on one weekly availibility with Katie B
Full course material online
NICARAGUA WEEK
5 nights accommodations Playa Maderas
Airport transfers to and from retreat
Immersive group study everyday
Breakfast + smoothies every morning by Salud
3 Nights of Salud dinner + cocktails
3 Surf Lesssons
Salsa Dancing Lessons
Graduation Ceremony
SYB Swag
Photos + videos by photographer
NOT INCLUDED
International flights
Certain Dinners in town
Certain Lunches
Optional Nicaragua Catamaran Tour
Optional Nicaragua Horseback riding
Personal expenses
Travel insurance (optional)
SAMPLE DAY
7:00am - Sunrise Sessions
8:30am - Deep Dive Session: Practical Application
9:00am - Breakfast by SALUD
10:00am - Advanced Asana Developmeny & Partner Fun
Noon - BREAK / Excursion to See Culture / Have Adventure
4:00pm - Energy & Subtle Body Exploration
6:00pm - Advanced Anatomy
7:30pm - Dinner by SALUD
8:30pm - Salsa Dancing Lessons
ALL THE DETAILS
Reset, refocus, and rejuvenate with us in beautiful Mexico, just a short drive (bus provided with group) from the San Diego airport. The initial five day immersion will be a deep dive into all things yoga. From the history and lineage to how yoga applies to your 21st century life, our SYB master trainers will guide you into the depths of your best self. Enjoying local, fresh prepared meals from Salud, miles away from your normal routine, your mind and body are prepped to take it to a new level of self understanding. While deep in the teachings, you'll learn everything from intro to meditation to how to build into a handstand. We'll take a karma trip to a local orphanage and work in seva (selfless service). In true moderation, we'll wine taste the delicious Mexican grapes in the Valle De Guadalupe.
ADVANCED ASANA DEVELOPMENT
Is a deep dive into your own personal practice. How does your body work in each asana? Why does your specific body feel like it does in this pose? We'll work into personal correction, and always provide a solid WHY to each modification so you can go into your teaching knowing how to better serve safely and effectively. We'll work through your favorite funky variations of poses and explore why or why not they are good for your future students.
ENERGY & SUBTLE BODY EXPLORATION
Takes the lineage based Vedantas (books verbally passed on for over 4000 years) and brings it into your current day life. What is an energy line and how does it apply to your body? Where are there blockages that are limiting you moving forward? You'll be able to not only fully explain what a darn chakra is, but teach it moving forward. The vedic teachings help us to self heal from the inside out.
ADVANCED ANATOMY
Takes the required 15 hours from Yoga Alliance anatomy to a whole new level. We'll work into over 40 hours of anatomy so that you can feel fully present in your body, and know how to safely guide other shapes and sizes. Why do the 26 bones in your feet relate directly to back pain? How can an acupressure point in your hand help calm stress? What exactly is happening when you squat low into chair pose and how you achieve stronger legs doing less work? Ujjayi what? Brachialradial-what? You'll know, don't worry.
PRACTICAL APPLICATION
Brings the essentials of getting your hands dirty. You'll spend an hour plus every week live with your trainers in a personalized class for your class, as well as observe and learn from the best teachers in the world from YogaGlo.com - As you transcribe cues that you love, discuss the ones that don't work, and get all the WHY?'s out with your trainers, you'll start to understand the inner workings of any yoga teachers sequencing and theming. How can you safely adjust a person with a shoulder injury? How do you teach a class to multilevels of students? What does an outdoor class look like? What is the business behind becoming a teacher? Is teaching privates or public best for your style? (yeah, you'll find out your style by the end)
SOME QUESTIONS YOU MIGHT HAVE
SYB Academy?
We are venturing into the world of in-depth learning of the world of fitness, health, mind-body, spirituality and nutrition. We are commited to a creating an uncomparable learning experience and have been working very hard to create this vertical in our business.
Do I have to be a hardcore yogi to join?
Nope! We do ask that you have taken a yoga class at least 10 times, have a willingness and desire to learn more and deepen your physical, spiritual, and mental practice. Come with an open heart and open mind!
Do I have to want to be a full time teacher to come?
Not at all. Although you will be certified to teach after completing the training and all the requirements, this training is also an alternative to a yoga retreat. Lots of information will be shared to enrich your yoga knowledge, deepen your practice and transform your life!
Where exactly are we staying in Ensenada?
We provide transportation from San Diego 3pm Wednesday November 7th. It is 2 hour drive to our hotel.
Playas del estero S/N Ex - Ejido Chapultepec, Ensenada Baja California, Mexico
Where exactly are we staying in Playa Maderas?
We provide transportation from airport meeting time, which we will provide you once finalized!
Villas Playa Maderas, Nicaragua
How do I get to these place? Are there flights?
Once you book with us, we take care of you, But just so you know the recommended times: Ensenada: Meet in San Diego at Katie's personal home to get on our bus transportation. Playa Maderas: Please arrive to MGA airport by 1pm. We will pick you up and take care of the rest. As with any delays or problems we will take care of you the whole way through.
What is the preferred currency in Mexico and Nicaragua? And how much should I bring?
US dollars are accepted in both! If you love to buy souvenirs, many places have ATMs and may even take credit cards. If you go into banks with your passport, you can also use your bank debit cards to withdraw larger sums of cash than the limited daily withdrawal amounts the ATMs allow.
Can I just sit back and unwind the whole time?
Hmm... not really. You came to learn, and we will make sure that knowledge get to ya! #knowledgeispower
How soon does it fill up, and how does the waitlist work?
We expect to fill up very quickly because of our limited amount of spots, the sooner you apply the better. The waitlist works on first come first serve.
Are there caretakers and house keeping?
We have house keeeeeeeping.
Are the power outlets the same in Mexico and Nicaragua as in the United States?
Yes, don't worry your hair straightener will work...
Do I need to bring a yoga mat?
Ugh this is a yoga teacher training...
What's up with theft
Be safe and you won't be sorry. Crime is very minimal and is usually of the petty theft variety, typified by small time thieves seeking cash or things they can readily turn into cash electronics like laptops, iPhones and cameras. Don't flaunt jewelry or cash and keep your valuables secured and locked up in the hidden storage bodegas and mini-safes we provide in each room when you are not using them. Do not take anything of value down to the beach unless it is tightly attended. Also don't worry we are always sticking with our SYB group so we will all keep an eye out for these sorts of things.
Meals by SALUD?
Owner and SYB partner Eddie Larios has created the perfect menu of clean delicious eating, energizing foods, and local specials. Don't believe us of his talent? Go visit him at one of his two cafes in NYC, SALUD NYC! #saludnyc