Brad's Story | Iceland 2018
I never had been to Iceland, met Mantas, or even heard of Surf Yoga Beer before I signed up for the Iceland Running trip. It looked impressive on the web-site, miles over waterfalls/volcanoes/out of the world terrain, photographer with a drone, local running guide, remote cabins with impressive views, this trip had to be something too good to be true. I signed up as a co-worker (Sean) cheered me on and thought, "what am I doing?" This is not me, signing up for a trip without fully exploring all the options, I'm an adventurer, I run marathons, I love to explore, but spontaneous group travel to another country, not me! What if I don't like any of these people, what if I can't run the miles, what if I got injured and couldn't run my regular marathons back home. At that time I didn't realize a 5 day running adventure with 18 strangers would do to me and the impact those people and the trip would have on me going forward.
The first run of the trip, just outside our home
I eagerly packed my bag and prepared myself for running on trails for the first time. I also did my detective work on who was going on this trip. I learned about Mantas and his SoulCycle classes and how he started this group and past adventures they have gone on. I joined the summer run club and had a taste of the community that SYB builds.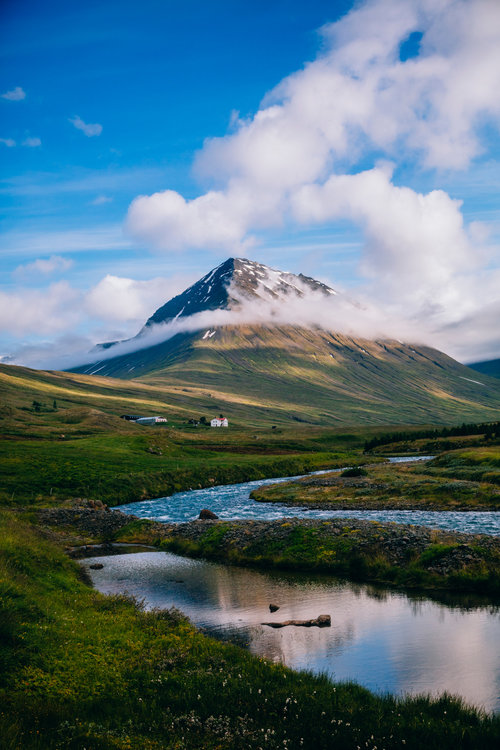 It looks like a fantasy but this was our home
I landed and made my way through customs to the duty free shop to find some local whiskey to buy for the trip. While groggy and looking for coffee I found a black carryon bag alone in the aisle with SYB stickers all over it. I looked around for somebody from the trip, but didn't find anybody. I thought of all the times at the airport and luggage is left unattended what to do and the consequences to that bag. Soon Mantas swings by hi fives me and grabs the bag. I followed him to meet the others in the group and headed off to a bus onto our cottages in the northern part of Iceland. The awkwardness of a new group melted away quickly and within the first hour. Mantas and Inga asked us each to share a bit about ourselves and what type of runner we are, we had a full range from multi-marathon runner to non-runners, we had developed nick names and inside jokes amongst our group. Hours passed and when we arrived to the Raven Lodge area we stepped out into a scene appropriate for a MacBook wallpaper, it was perfect with snow capped mountains, a crystal clear stream, waterfalls, several black cottages scattered amongst the fresh air that we breathed in deep. It even smelled fresh! We were off on our first run 30 mins later along that stream up a ridge to view waterfalls and the hillside with rolling hills and a circling cloud on the mountain top. We ran like that for the next several days. We took pictures of us running, exploring, goofing off, relaxing, drinking, and building a gram portfolio for months to come. Over the week we toured several parts of Iceland and ran over volcanic rock, through streams, up and down ridges and cliffs worthy of National Geographic. I personally have never seen sights like those before in my life. I still remember the first mile of a 20 mile trail run we did and how I couldn't believe what I was seeing, a cliff with a few hundred foot drop to a teal blue river with rock formations that looked Martian like. My iPhone snapped pictures along the way, but Aaron our professional photographer ran and took pictures of us, I felt like a Lululemon store model in those pictures he took. They adorn my iPad, iPhone, and work laptop wallpapers.
I typically run alone on the west side highway or in Central Park in New York City as I use it as mental clearing and personal therapy. These runs in Iceland were that, you had beautiful scenery to distract you from the miles put in, your head constantly focusing on the next step to take and avoid slippery rocks and sharp points, but when the runs stopped and we climbed the steps for the bus back to our picturesque cottages we learned about challenges back home, heartbreak, family stress, business triumphs, favorite gas-station snacks, personal goals, who snores/who doesn't snore, and everything in between. I felt as if the run was a time to organize my thoughts and my bus time was the time to let it out share amongst my bus mates. These 18 strangers met in Iceland and escaped everything from where they came from for one week and focus on the moment we were in.
I've ran numerous marathons and have become addicted to the runners high. I hold marathon finishes very highly in my head as what I call Living life to the fullest! The second to last day we ran the four Forrest race it was a trail race with several distances that our group all signed up for. I did the 30k length and was nervous as we got to the start line by van. We were delayed as sheep had overtaken our path and wouldn't move out of our way. I had ran 8 miles the day before and 20 miles the day before that. I was exhausted and only ran this race to finish. I ran with heart and the feeling of support from the other runners on my adventure. I remember one special part of the race and it has become my ultimate running experience! At the halfway point the 30k racers ran by the start of the 18k race group, I saw the pack of runners from a few hundred feet away and knew I would run past them. I was running alone in 3rd place and felt great and full of energy. As I turned the corner and passed the 50 runners and felt their energy I ran with so much heart I couldn't stop from smiling and yelling as I passed them and hear their cheers. For a runner having that experience is like nothing else. I was living my life fully alive and felt the energy of everyone as I turned that corner and onto the rest of the race, it's a moment I'll remember forever.
Seriously this was unreal…
Yes this was real life at 11pm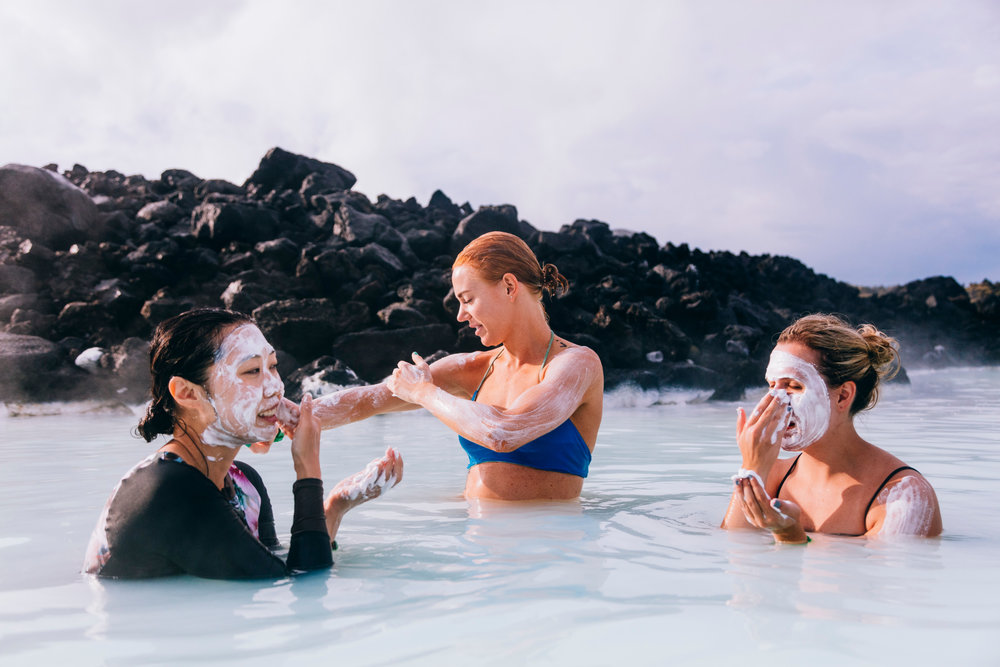 Recovery at the Blue Lagoon
So It's been about 3 months since I returned back home, the group texts are still going, I've met up with my bus gang several times, I've met with a fellow Icelander to help with their business, I've attended numerous SoulCycle classes in my Iceland hat with other trip mates, I've continued on with the run club in the fall, I feel part of the SYB community I've gained genuine friends and support in a challenging city. Personally I've gained confidence that I didn't realize I had. I left my job for a new one, ran a PR marathon, I feel like a part of the city and no longer a transplant, and have become more greateful for the things I have and the people in my life. Like I said before I really didn't realize this running adventure to Iceland would have ongoing impact on my day to day life.
And as it says on the SYB site "life changing purchase" they actually mean it.
MORE PHOTOS FROM ICELAND 2018
---
Brad Homan works in NYC as a packaging manager.
Brad after winning 3rd place in the 30km race
Posted on Thu 25 Oct 2018