5 LIFE-SAVING TRAVEL TIPS | Jackie Caterina
Up, Up and away you go..........
Who doesn't like to travel?! In a world of experiences becoming a huge part of the millennial culture, travel is becoming more and more common in a person's routine. But because we are creatures of habit, the healthy and mindful routines we have while at home suddenly become disrupted and some people make their time in an airport a free for all in the candy store or with the meal service on the plane.
If you are preparing yourself for your next SYB adventure, here are some tips I've put together for you to help stay on the healthy track while you're on the road for those adventures:
1. Meal prep on the move


Keeping your body and mind fueled at the start of your journey will likely keep you from making a pit stop at the Hudson News across from your gate and going H.A.M on the chips and snacks. Try to have a meal rich in Omega-3s (salmon) antioxidants (berries) and folate (dark leaf greens) to keep you happy, full and nourished.
Grab a couple of those organic instant flax seed oatmeal packets you have in your cupboard. I LOVE Nature's Path brand but Whole Foods 360 is a great alternative.
If you need to grab some snacks to keep you satisfied while in the air, (and haven't packed your LiveFit approved protein bars), go for the raw almonds, maybe some Skinny Pop if you want some crunch and go for a Lara Bar if you want something sweet. I also like Peeled Mango snacks if you really want something candy like and their are no options for a fresh fruit cup anywhere in sight. If you are burning through your meal already and think you might need another one, find a mixed green salad with protein to take with you on the plane.
When the meal service comes around and you think you need something, check the menu for the dairy free, veggie loaded option (some of my clients have Low Lactose or Vegan selected in their airline profiles so the airlines know their meal preference beforehand). If that's not your style, pull those oatmeal packets out and ask for some hot water and an extra cup. The meals and snack boxes they offer on most airlines are loaded with sodium, empty carbohydrates and sugar.
2. Make yourself a weapon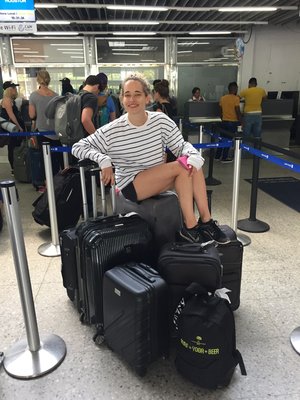 Air travel in particular is a breeding ground for germs, so make sure you are loaded up on tons of vitamins and minerals to keep a shield around you from all that recycled air.
Grab some juice before you head to the airport (I like Mother Earth and Mthr Fkr Fireball from Juice Press) and drink these before you go through security (No one likes their liquids confiscated by the TSA). These will give you an added boost of vitamins to keep you healthy while up in the air. If you're looking for something on the other side of the security check point, Evolution green juices that are sold at most Starbucks are a good alternative. Just make sure you check the label for the proportion of fruits to veggies. If it's mostly fruit juice, you want to watch out for the sugar content.
Once on board and the beverage service starts, ask for an orange juice as extra Vitamin C insurance.
3. Water, Water, Everywhere
Remember to keep yourself hydrated with your best friend... water. Grab 1 liter of water for every 5 hours you are up in the air. The airlines are a little stingy with beverage service so make sure you are taking care of it yourself.
When it's snack or meal time up in there air, there are so many opportunities to dehydrate instead of hydrate.
Keep it simple and stick with water, club soda or tea. If you are traveling overseas, just because wine and liquor are free, this isn't a signal for an open bar opportunity to get lit (it's just not a good look).
Add some lemon to the water to give it some punch and vitamins. If really think you want something more, go for the orange or apple juice. Although high in sugar, the added vitamins as we spoke about earlier are always helpful.
4. Get moving
If you are on a flight that's over 4 hours long, make sure you take some time to get up and walk around and stretch. Keep the blood going and muscles stretched out. Some carriers have in flight wellness programs as a part of the entertainment. I've seen yoga, stretching and meditation on some flights.
5. Stress Less
If your flight gets delayed and you start to stress out, don't run for the nearest bar or grab that bag of popcorn just yet. Stress is the #1 trigger of emotional eating (and drinking). Breathe through it with your breathing exercises and calm your mind. Be present, be thankful for being able to take this trip and know that everything will work out and you will get where you need to go. Running to the bar to get drunk to pass time is only going to give you a hangover before you even get on the plane (not a good look). And ripping through your snacks won't change the situation or help. Be mindful of your triggers and recognize them before you reach for the snack. Knowing to check yourself before you wreck yourself is empowering.
Arriving to your destination healthy, happy and hydrated is the goal. No one wants to arrive to a fitness adventure feeling sluggish, bloated and under the weather. By being mindful of your choices you will be off to a great start for one of the best vacations of your life.
Posted on Tue 6 Mar 2018