6 Epic Adventures You Can Only Have In Portugal
Portugal is one of today's hottest travel destinations, and it's easy to see why. With 250 days of sunshine per year, old-world charm, incredible beaches, incredible wine…Portugal truly has it all. The Portuguese word "bom" means "good," so you can literally say that Portugal is the "bom." There are tons of reasons why everyone's making the trip to this Iberian paradise, and if you're an adventurer at heart, here are just a few things you can do in Portugal you won't wanna miss out on.
A MOUNTAIN BIKE RIDE THAT ENDS WITH WINE:
Can't choose between the scenic bike ride and the winery tour for your day trip? Well, in Portugal, you won't have to. Simply head to Arrabida Natural Park, located in the Setubal region of the country, to begin your bike and booze adventure. Arrabida Natural Park is a must-do for every nature lover, boasting over 40 square miles of lush forests, scenic beaches, and picturesque rocky cliffs. All you have to do is rent your bike (or book a tour), and you'll spend the day out on the rugged trails soaking up the breathtaking views and working up a sweat that will ultimately be rewarded by a glass (or two...or three...) of porto at the end. The local vineyards in Arrabida are easily accessible by bike, and if you time it right, you can enjoy the sunset with a glass of Portuguese wine in hand by the end of your ride. I dare you to think of a better way to spend a day. SYB TIP: Throw your swimsuit and towel in your backpack so you can take a dip at one of the many gorgeous beaches in the Natural Park.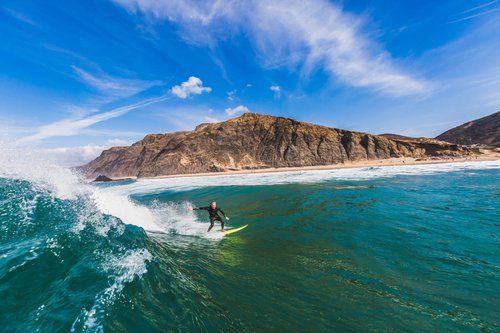 SOME OF THE BEST SURFING IN THE WORLD:
It doesn't matter if you're a seasoned surfer or a first-timer, you're gonna want to catch some waves in Portugal. The country is actually known as one of the most surfer-friendly places in the world, so you shouldn't miss your chance to experience it while you can. Portugal offers everything a surfer could possibly ask for: quality waves, chill vibes, and impressive natural landscapes for surfers of any level skill level to enjoy. Ever see the video of that massive World Record setting wave? Yep, that was in Portugal. But don't worry, there are plenty of great surfing beaches for beginners and intermediate-level surfers. You can check out the full list of locations in Portugal here.
OFF-ROAD TO GET THAT PERFECT INSTAGRAM:
We hope we've already convinced you of this by now, but let's just say that doing Portugal the SYB way involves reaching a certain adrenaline level. That being said, you won't want to miss out on a cliff-hugging, off-road adventure that'll bring you to the best vistas in the country. Just head to Sintra for an offroad Jeep tour, and you'll hit the coastal trails for an insane ride and some some insane views that'll make all of your Instagram followers jealous. Pro tip: Sintra is a fairytale-esque town, and also the world's first maritime nation, so be sure to get there early to explore the village before buckling up for your scenic thrill-ride.

CHANNEL YOUR INNER INDIANA JONES ON A CAVE EXCURSION:
If you want to immerse yourself in a captivating caving excursion, Portugal will deliver. Depending on what you're after, you can experience both above-ground and underground explorations of the many caverns and caves on Portugal's coastline. If you're not claustrophobic and are down (pun intended) to go underground, there are lots of guided opportunities to navigate subterranean waterfalls and rivers, and crawl through mudslides that are over a million years old. For those who prefer to stay above ground, there are plenty of of gorgeous caves you can explore right along the coast, with or without a guide. No matter what you choose, you'll be in for an unforgettable experience.
A BOOZY BOATING DAY:
Okay, so after a few high-powered days of physical activity, you should treat yourself to an adventure of a different variety. Go ahead and book a boozy catamaran sailboat cruise (it's all about balance, people). Not only will you be able to see the stunning Portugal coastline from a different perspective, you'll be able to do all it while sipping on some quality vino and/or or cocktails. Catamaran tours are available all over Portugal, and it's the perfect zero-sweat way to take it all in, do a little partying, and meet new people. Just don't forget to hydrate!
KAYAK THROUGH COASTAL ROCK FORMATIONS:
If you want to take to the water in a different way, look no further than a kayak trip. Whether you rent out 'yaks or go on a guided tour, you'll be able to get up close and personal with the cliffs, caves, and beaches that Portugal is best known for.
YEP, PORTUGAL IS SERIOUSLY THAT COOL.
WANNA EXPERIENCE IT FOR YOURSELF? COME WITH US ON OUR
PORTUGAL ADVENTURE
AND 5 OUT OF 6 OF THESE SWEET TRIPS WILL BE INCLUDED. BOOK YOUR SPOT WHILE THERE'S STILL ROOM! TRUST US, YOU DON'T WANNA MISS OUT.
Posted on Thu 14 Mar 2019