Hunter Retreat Testimonial | Nora Zanella
I have to start by saying that this isn't my first SurfYogaBeer trip and it certainly will not be my last. Continue reading at your own risk, because this will make you want to go on one of their adventures...
It's a regular Sunday afternoon, post SYB BootyCamp and SYB founder, Mantas, starts convincing my friend and I to go on the Hunter mountain weekender adventure; which honestly didn't take much more than him mentioning the word "s'mores." Yes, we went on the trip on the promise of s'mores and bonfires, but this was only because I already knew that I would be having one of the most rewarding experiences of my life.
Switching from the concrete jungle to what seemed like an enchanted forest was everything I could have asked for, escaping a humid AF New York City summer. We drove upstate to this beautiful, huge house that had a lake as it's backyard. Throughout the weekend, we all did our fair share of canoeing, paddle boarding, and some even took quick dips in the lake while the rest of us just sat in the dock; simply enjoying the view and the fresh air as we got to know each other.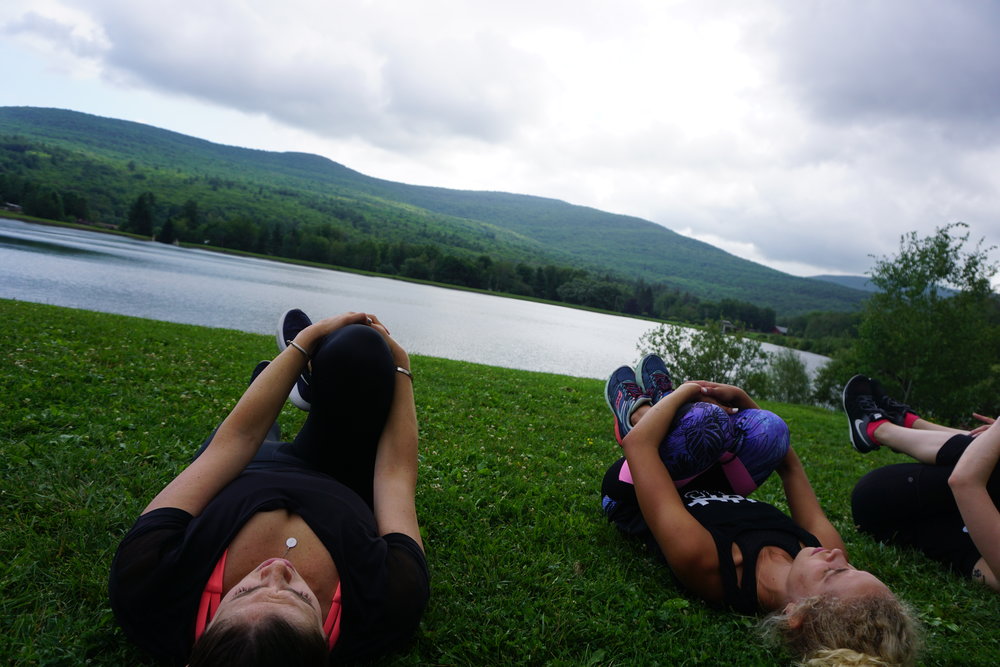 Stretchin' with our squad.
SYB is a sweaty crew and we all love a little (or a lot) of fitness and sweat. We did outdoor bootcamps, went running to explore the town, and we hiked to the top of Hunter Mountain. Mantas is the master of leading pretty much everything that will make you drip in sweat; this guy will get you out of your comfort zone and get you doing things you never thought you could do. The second day, Kings was leading the charge and I finally got my ass kicked by her. Trust me, the next morning my body felt so good. She is good at what she does. Good thing we had a hot tub to ease our sore booties and relax for a bit before conquering the Hunter Mountain hike. The hike was definitely one of my favorite parts of the trip because of the views (duh) and because even though you are doing all the work by yourself, we worked as a team by cheering and motivating each other to get each other to the top. It was not about how fast you got to the top, it was about the fact that you were doing it and enjoying the whole journey. Whether you are a super-human and went up running (Yes Mantas, I'm talking to you) or just walked up while snapping fingers to make it more fun, like Kings and I did, it was definitely something to be proud of. Breathtaking views, out of breath laughs and connecting with Mother Nature is a combination we don't get that often and let me tell you that once you get to the top and the endorphins start to hit, well, life doesn't get any better than that. It is something that I can't explain through words. It is something that you have to FEEL yourself to understand.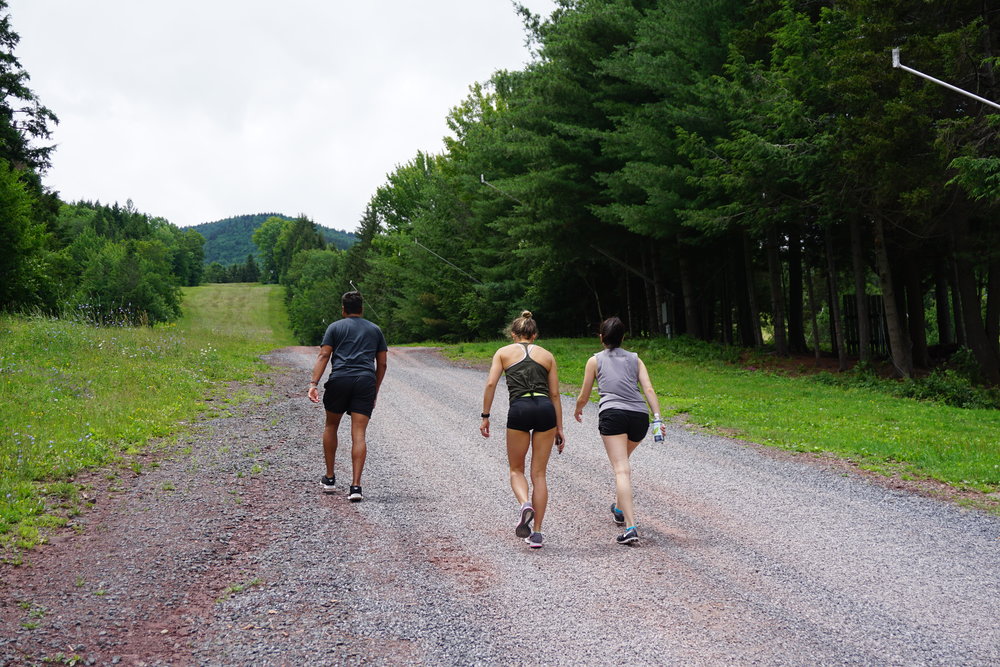 All the way up.

After our hike, we couldn't think about anything else other than food and sleep. So we took a quick power nap and Eddie and Andrea, our master chefs, cooked some delicious meals for us. Eddie and I both have Mexican heritage so I have a special bond with him and because of that, he spoils me and makes me "chilaquiles", my favorite Mexican breakfast. Come to Eddie if you want some real Mexican food.
Smoothie bowls by Salud NYC #zayummm
Talking about things you cannot do in New York, when was the last time you saw stars? Like thousands of stars lighting up the night while you eat s'mores (as promised) by the bonfire that our expert firefighter Marcos taught us how to build. On this trip we were constantly reminded of all the little things we miss because of our busy lives in the city. We often forget to take a minute to breathe, to look up and count stars, and we certainly don't get enough opportunities to share delicious meals in a table full of beautiful souls. This trip brought us back to living in the moment instead of thinking about work or emails or cooking dinner. It was such a relief to unplug and reconnect with nature and the present moment.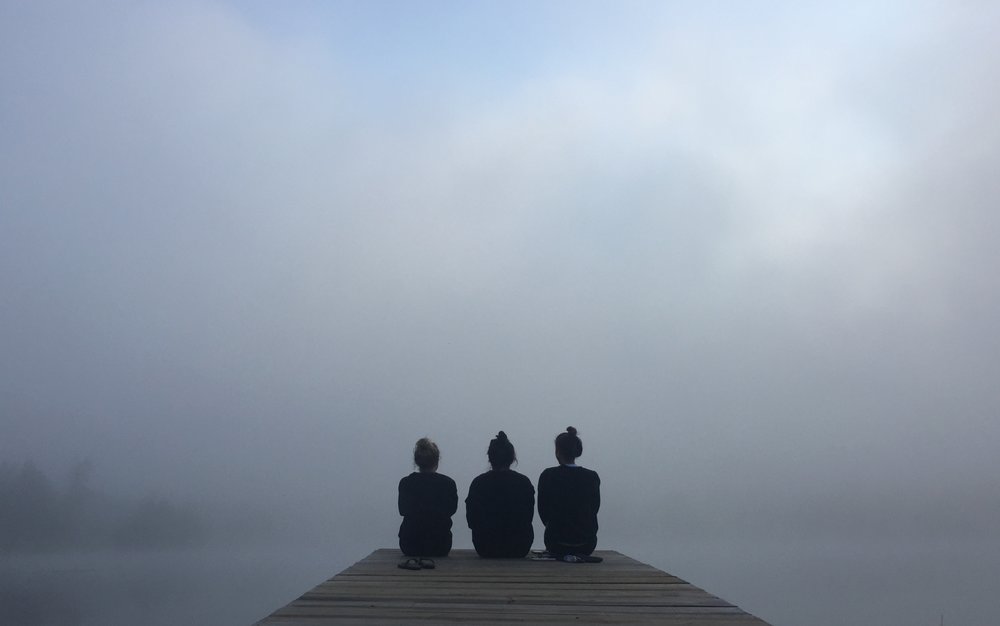 Morning meditation moments.
The final morning of the trip. It is 6:32 AM and I'm sitting on a dock with two of my best friends. We are in front of a lake which we can barely see because of the heavy fog that is literally running through us. We just sat there. We sat in silence and listened to the frogs croaking, we followed fish with our eyes and we were consciously breathing the freshest air you can think of. In that moment it felt so good to simply just be right where I was. If this doesn't make you feel 100% convinced to go on a trip, I honestly don't know what will.
Hunter Mountain, New York - July 2017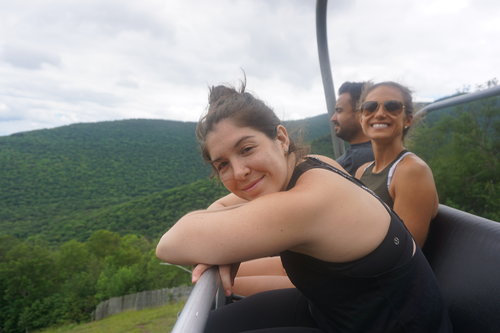 Nora, Jenn and Marcos riding the chairlift down after hiking to the top!
Nora Zanella is a fashion designer and fitness phanatic based in NYC. Nora loves Mexican beer, chocolate, sunsets, sleeping, and Kingsley.
Posted on Thu 3 Aug 2017