Maderas Retreat Testimonial, February 2016 | Kim Birn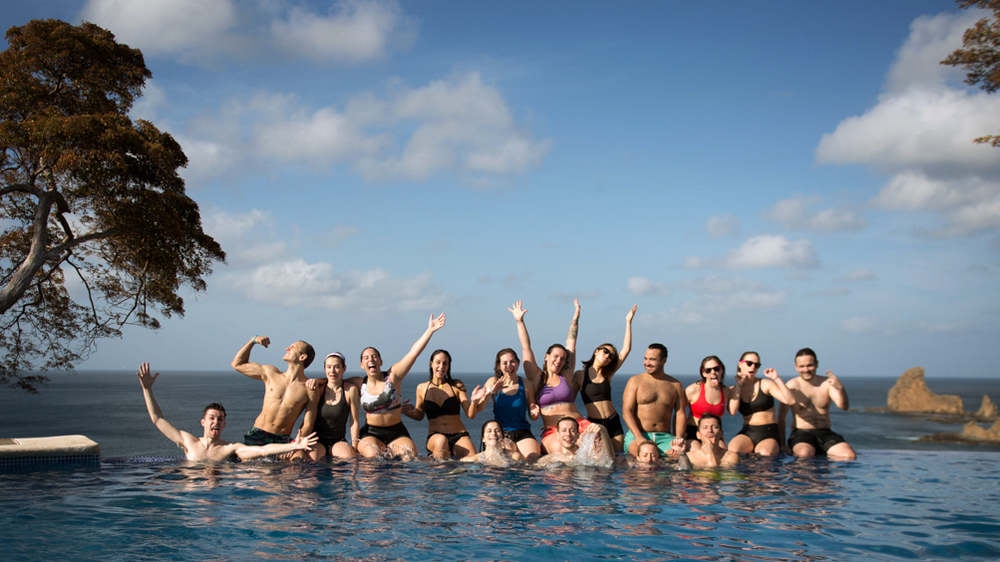 If you want something you've never had, then you've got to do something you've never done.
We all want that feeling in life of connecting to someone or something that makes us feel free to be who we are without judgment or barriers. As hard as it may be I think SurfYogaBeer guides us there and seeks to find the core of each person that is present. My experience at SYB Playa Maderas, Nicaragua was as unique as each individual that I met there. There is such a stark contrast from our timid introductions at the departing flights to our wholehearted goodbyes at the return flights.
The excursion from Liberia airport in Costa Rica over the border to Nicaragua consisted of name games, beer and lots of laughter. Five hours later we entered a secluded villa about 30 minutes outside of the main town. It was a beautiful landscape forte adventure ahead, with endless forest, rocky unpaved roads, quaint beach houses, pools and an expansive view of the ocean. We were split into four houses, but came together at the main hour for family style dinners.
In the mornings SYB Co-founder Mantas woke us up with high-energy music and smiles, usually as early as 6AM. Then it was a quick coffee and off to boot camp on the beach with SYB leaders Freddy and Emma. The workouts were always challenging, and afterwards we were always rewarded with an incredible culinary masterpiece that was carefully created by Salud, featuring all local products and ingredients. I'm still dreaming of those healthy pancakes.
After breakfast, there was always a break for everyone to get ready for the beach, surfing, or hanging out by the pool for the day. We would regroup on the beach for tacos and drinks before sunset yoga. Yoga was a spiritual journey led by David around the infinity pool. He has a way of making you connect with your surrounding and yourself, creating a whole new experience. There was truly no better way to honor the moment after yoga than with a group cheers to the sunset. Pure magic.


On the third day of our adventure, we went to town and set sail on a catamaran ride. By this point the group was well acquainted with one another and it was all laughs and unfiltered fun. The sun was shining and we were taking full advantage of the experience: swimming, tanning, drinking, dancing and laughing. Not wanting the fun to end, we proceeded to a rambunctious, high-energy dinner in town.
On the last day we did boot camp, followed by a yoga session with Kate, more surfing and beach going, and of course sunset yoga. Our final family dinner was both a joyous and sad event, with a magnificent buffet spread of pastas, fish and salad. The final feast was accompanied by a heartfelt awards presentation and toasted marshmallows. Only to be followed by what later became known was the "trip dance," a dance to Justin Bieber's "Sorry," Choreographed by SYB leader Emma. It was the perfect ending to a perfect trip!
My journey with SurfYogaBeer was a bit unique. I have a shellfish allergy and while I had my EpiPen and took the proper precautions, that sometimes is not always enough. On the third day, I woke up with a massive allergic reaction that left my right eye swollen. It is hard enough going into a situation where you don't know anyone, and on top of it, now I was mortified! It was a huge test in humility that I couldn't have walked through with grace, if not for the people who embarked on this adventure with me. They made me feel accepted, despite my discomfort. Not only was this an unforgettable trip in itself, but for me it took on a whole new level of meaning with all of the lessons I learned about others and myself.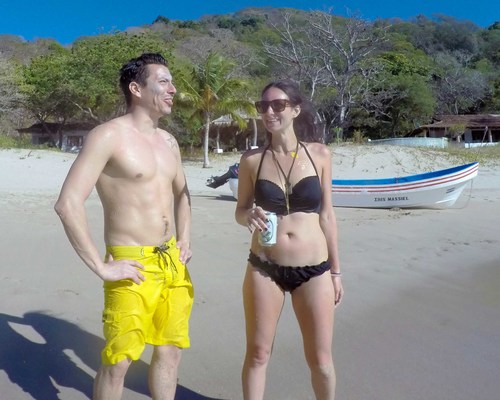 I am so grateful that I took the leap of faith to go on this trip. I encourage anyone who is looking for something life-changing to take the leap as well and go on one of SYB's future adventures. You won't regret it!
Kim Birn is a co-founder at Eskella Partners.

Posted on Fri 11 Mar 2016