RePost: Croatia - The Trip That Changed My Life
I was never the person who loved to travel…let alone with a bunch of strangers. (Seriously, in high school I wouldn't even walk to the vending machine by myself.)
It's true. As much as I try to pretend like I love to travel here on the blog, I just don't. Well, I didn't. I'm writing another blog post on that, but I definitely need to preface this with saying that. Traveling just wasn't my favorite thing to do.
So, how did this trip change my life? Well, let's start from the beginning.
On a cold January Saturday, a few of my friends and I took our usual 10:45AM SoulCycle class. Afterwards, we always headed to Juice Press. And on that one, random day, three of us decided to book a SurfYogaBeer trip to Croatia. We booked it right then and there on our phones, obviously with Mantas hyping us up the entire time.
Back in November, I did the long weekend trip to Miami and honestly had such a blast. But still, I was nervous to travel internationally for whatever reason (I mean, I've really only been to London with Allie – because like the Bahamas and Mexico don't count). Regardless, booking the trip just felt right.
Over the next month or so, a few more of my SoulCycle friends booked Croatia as well. The excitement started building, and before I knew it, August was here. But the night before the trip, I was anxious as hell. And that really is something I don't deal with ever.
Even at the airport: excited, but anxious. No, I'm not afraid of flying or anything like that, so there was clearly more.
Will everyone start annoying me a few days into the trip? Am I going to be homesick? Am I going to hate being out of my routine? What if we don't have fun? What if I can't get through the work outs? All of these random questions were running through my head.
Once I got on the plane, I told myself everything was going to be just fine. I was with a small group out of the 27 people on the trip, and we were already having a good time. It was going to be great. It was a decently long day of traveling, but everything went smoothly.
And again, before I knew it, we were on the boat heading to our island, Lopud.
From the second we got to our house, I knew this was going to be the best trip of my life.
DAY ONE, SATURDAY
We started off with simple introductions, then yoga, then a short walk to the end of the island to watch the sunset. We also did some more icebreakers with the group to get to know each other.
And then the fun started. After dinner, we walked to the nearby outdoor bar by our home, and kicked off the night with a tequila shot (ok fine, multiple tequila shots) and karaoke. It was a great way for the 27 of us to loosen up, interact with each other, and bond instantly. We danced, sang, and laughed A LOT this night.
The bar closed fairly early, so most of us took the dance party back to our house till about 4AM. What a first day.
DAY TWO, SUNDAY
Oh, the classic SYB wake up call. If you didn't catch my stories (on my travel highlights), basically the leaders of the trip barge into each room, blast music, and jump all over you till you're awake. It sounds SUPER annoying, but it's low key one of my favorite things about going on a SurfYogaBeer trip. Even after running on only 3 hours of sleep…
Today was the day we were doing a lot of activities.
First up, a bootcamp lead by our friend Isak (who happens to be Croatian…so that was comforting). We did push ups, burpees, partner work outs, and danced during our short breaks. When we got back to our house, we ate breakfast and got ready to go on a 1.5 hour long kayak to some caves, then kayaked over to another island to do a 2 hour bike ride (with lunch in between), and thennnnnnnn the 1.5 hour kayak back to Lopud. This was honestly SUPER strenuous, but I was lucky to get a 2-person kayak with my friend Gab. We got to know each other a lot better on that kayak, and also ended up having some deep conversations in the water. It was definitely one of the highlights of the trip for me.
When we got back, we had some down time before we headed to a restaurant in town for dinner. Here, we filleted our own fish for dinner (that was fun), and went through our rose/thorn for the day. It's so awesome to hear everyone's perspective of the trip, and it really allows you to see where everyone's heads are at in that moment.
After dinner, we headed right back to our local bar – took some more tequila shots, danced, and then took the party back to our house for another late night. (Are you sensing a theme here? All about balance, ha!
DAY THREE, MONDAY
This was one of my absolute favorite days.
Honestly, I skipped the bootcamp/hike/swim this morning. I was pretty tired from another long night, and knew we had a super long day ahead of us. After we had some breakfast and the group who worked out got back to the house, we took private water taxis over to Dubrovnik for the day.
First up: A drink. (No, but really, we needed some hair of the dog).
Next up: A Game of Thrones tour. TBH, I didn't watch the series, so I wasn't super interested. I know those in the group who did watch were super into it though! At some point, a group of us who didn't watch the show, broke off to take some pictures, hiked up a mountain, and then found THE dopest beach bar across the way. We had about an hour and a half till the tour ended, so we just hung out and bonded over our lack of GoT knowledge;) This was one of my favorite parts of the day – I'm pretty sure I kept saying how happy I was.
We were feeling pretty good at this point (#aperolspritz), and then met up with everyone else for our next stop of the day….
A 40 minute bus drive to a winery! (Honestly, a funny bus ride because we were rapping, asking each other questions, and doing lots of air horn noises.)
First, we all sat around and had a private wine tasting. I do enjoy a tasting, but let me tell you, THEY DO HEAVY POURS in Croatia. We tasted 4 or 5 (honestly, I can't remember) wines, mostly reds, and had A BLAST. We were laughing, making constant air horn sounds (literally THE sound of our trip). Then, someone (ok fine it was on the schedule all along) decided to do a yoga class. We thought we would be doing some chill yoga, but we ended up going pretty hard. Not gonna lie, we may have sipped our wine between a few poses. Again, #balance. Afterwards we headed back to our home, ate dinner there, walked to get gelato, and ate it on the beach. It was such a nice, chill night.
DAY FOUR, TUESDAY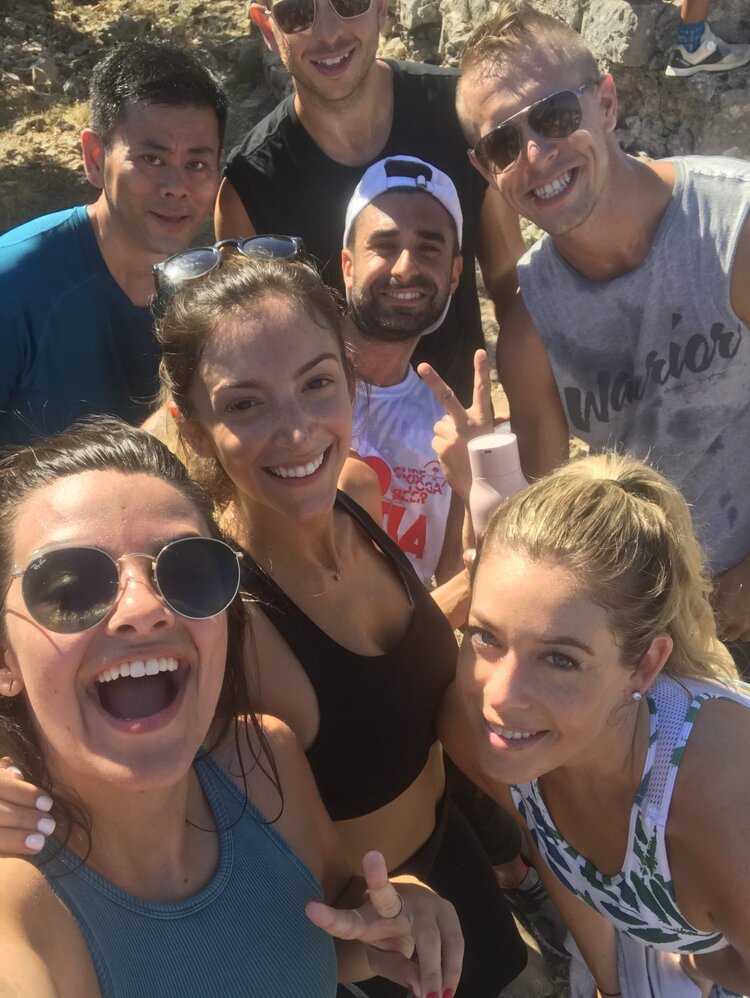 We started our morning with a BIG hike. That was really fun, and the views were incredible. To be honest, I was negative going into it, but the views alone were WORTH IT. We took pictures, we did squats to the songGreen Sally Up (thanks, Aaron) and then began the hike back down. Me and two other gals (Gill and Abby) decided to venture back to the beach near our house while the rest of the group did a beach workout.
The three of us lounged at the beach for a few hours, had some cocktails, got that Instagram content, and then ate a late lunch. I had so much fun hanging out with these two gals.
After lunch, we had to start getting ready to catch a 6:30PM ferry to Dubrovnik for our big night out. Once we got to the town, we had about 45 minutes before our big group dinner. Five of us gals went to a bar for some espresso martinis to celebrate Serena's birthday PS: She's trying to raise awareness, money, supplies, and donations for the Bahamas. If you have ANY interest at all, please feel free to DM (or email) myself or Serena!
We headed back to the restaurant for a gorgeous outdoor set up. While it was relatively quiet at the restautant, once the drinks started flowing, we started getting rowdy. A few vodka drinks and tequila shots later, we were ready to head to Revelin — one of the WORLD'S top night clubs. We got the VIP treatment (duh) – bottle service, tables, the whole nine yards. I had TOO much fun dancing till the early morning with this group of people.
Around 4AM, we had private water taxis take us back to our island under the stars. It was truly a cool moment, and a great way to end one of my favorite nights.
DAY FIVE, WEDNESDAY
THANKFULLY, we didn't have a scheduled boot camp or wake up call this morning. My roomie/bestie, Jordan, and I slept in till about 10AM, which was still actually only 5 hours of sleep, HA! A group of us headed to Sunj Beach, and met up with the other group of crazies who decided to run to the beach. At the beach, we got a few beach chairs, some cocktails, and just hung out in the water.
Eventually, a group of girls found ourselves just sitting down in the water. We laughed and we cried. It was honestly one of my favorite moments of the trip because I felt SUCH a strong connection to these people. It's something special when you're able to open up to a group of people without feeling judgement and instead just feeling heard and supported.
After the beach, we decided to do sunset yoga overlooking the water. And it was BEAUTIFUL. Seriously, just stunning. Afterwards, whoever did yoga sat in a circle and again we just talked. And again, I felt such crazy feelings opening up to these humans. I thanked them for helping me with the travel anxiety even though they all had no idea what they were doing for me. I opened up with being in my "New York bubble", not taking a consecutive 5 days off since 2015, and just doing this for myself. I really appreciate how every person there opened up to us as well. It was a crazy, surreal moment. And one I'll never forget.
We really just chilled this night, and a few of us hung out on the deck till 3AM – talking, playing card games, and probably making fun of each other.
DAY SIX, THURSDAY
Ooooh another SYB wake up call day.
We started with a quick stretch at our house, then ran to Sunj Beach for a boot camp in the sea. We did relay races, ab workouts, and then ran (okay, walked) back to our house to get ready for our final day in Croatia…ON A BOAT.
Honestly, when we went to Miami, the boat was the highlight of my trip, so I was really looking forward to this. Drinks, great company, tunes, jumping into the sea, and dancing? I mean I couldn't have asked for much more. It was definitely the perfect ending to the trip.
When we got back from the boat, we did the classic SYB Awards. I got an award for basically always being down to find the bar – ARE WE SURPRISED? And guess what we did right after awards? Went straight to the bar to celebrate new friendships, a birthday, and an amazing week that I SURELY will not forget.
DAY SEVEN, FRIDAY
Our 6AM wake up call came a lot faster than I would have liked. And before I knew it we were on the ferry back to Dubrovnik to head to the airport.
STILL WITH ME?
If you scrolled down to the bottom, here's what I want to say: Going on a random trip to Croatia with people I've known for less than a year and also complete strangers was truly the best decision I've ever made. And I truly mean that. And I know it sounds crazy. These friendships are based off such honesty, raw feelings, and just crazy connections. We kept saying it, but it's honestly something you just can't explain.
I explored a brand new place and actually loved it. I stepped out of my comfort zone and tried new things. I laughed more than I ever have before. I danced and sang and drank more than I ever have before. I began friendships with people I'd never know if it weren't for this trip.
If I didn't believe things happen for a reason, I certainly do now. And to my SYB Croatia squad: If you're reading this, just know how much I love each and every one of you. Thank you for EVERYTHING – and I can't wait to continue our friendships!
ORIGINALLY POSTED ON
ITSCASUALBLOG
by Dana Mannarino follow her on
Instagram
professional photos by ryan green
Posted on Mon 10 May 2021