Sayulita Reflection | Meaghan McCann
The night before I left for Sayulita, I was so anxious. I paced my room, packing and unpacking, not sure what to bring. I had never traveled alone before and kept wondering what these people would be like. Are they going to like me? What if I hate it? I tossed and turned waiting for my alarm to go off that morning, and when it did, I took those first scary steps away from the known and into one of the most rewarding adventures I have ever taken.
I was the last one to arrive at the house in Sayulita, as my flight-booking procrastination landed me on a much later flight. I was nervous, wondering if the group had already bonded and if I had missed a key part of the trip. Walking up, I couldn't help but notice that the house was pretty cool. It was right on the water with a huge porch that provided tons of space to hang out or do yoga in. I thought to myself, this wasn't going to be a bad place to spend a week. My jitters about being the last to arrive lasted all of two seconds. Kingsley came running up from the beach to welcome me with a huge hug and introduced me to the rest of the crew. The cast consisted of California girls Susan and Heather, Napalonia from New Mexico, and then the New Yorkers: Christine, Noah, Patrick and Cole. Then there were our expert trainers Mary and Toussaint, and leaders Kingsley and Eddie. Kingsley and Eddie are amazing. Their warm welcome made me feel like we were all old friends, just waiting to catch up on what we had been up to for the last few years (and somehow one of Eddie's equally amazing cocktails always find its way into your hand). Our first night, we spent dinner getting to know each other as we watched the sun set over the ocean. We shared our first rose and thorn and then fell asleep listening to the waves crashing. [SYB NOTE: "Rose and Thorn" is when we share our favorite (and not-so-favorite) moments of the day!]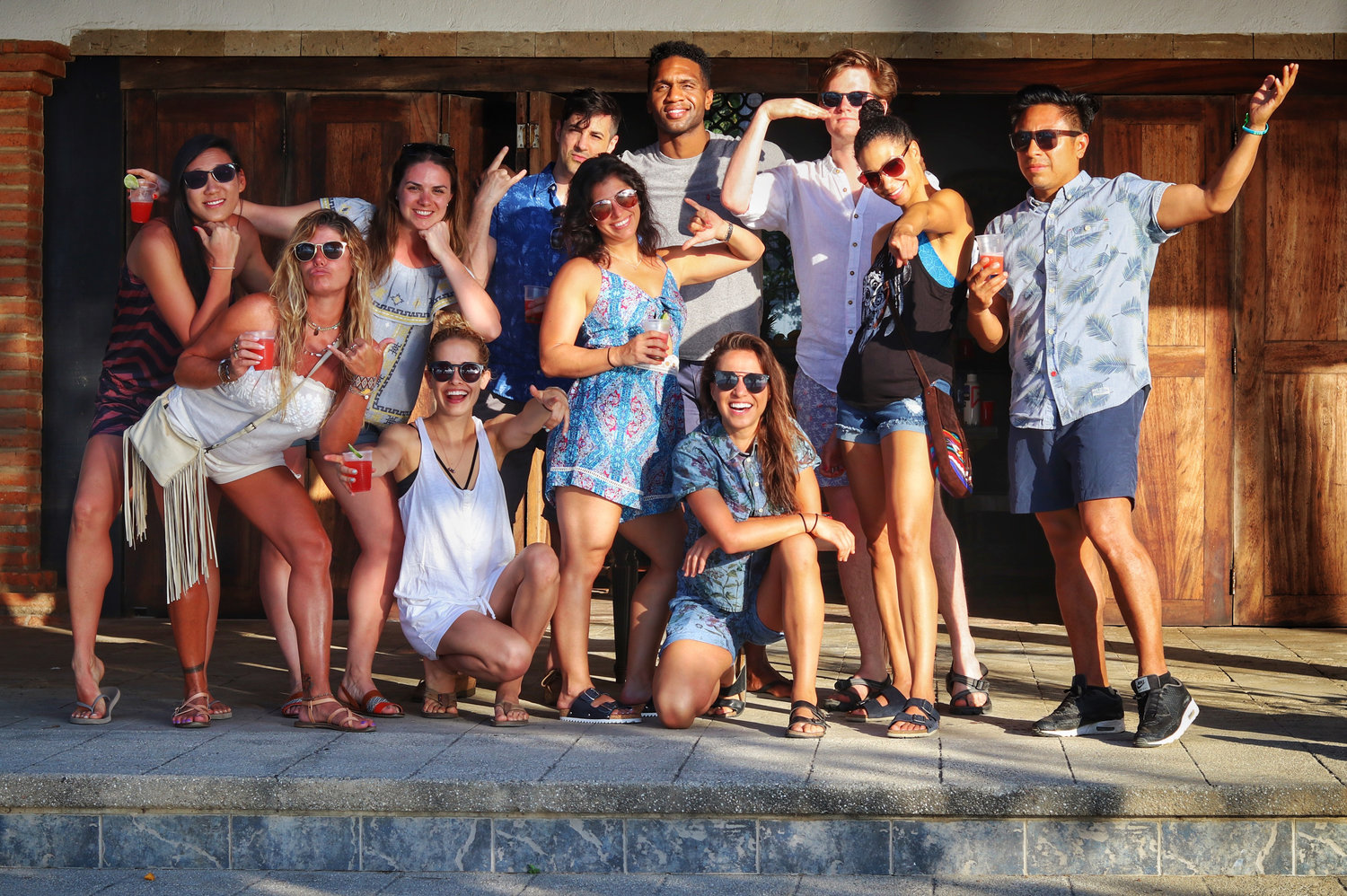 Over and out! #SYBSayulita

I will never forget my first disco ball wake up. Not every alarm clock has good beats and dance moves that put you in a good mood for the rest of the day. That morning we woke up before sunrise for yoga with Eva. I have never done yoga outside, or that early. It was so cool to be watching the sunrise over the ocean while finding my inner yogi. We played flag football, and our mascot for the week—Buddha the dog —joined us for the first time. After yoga, the team headed into town and off to our first surf lesson. Walking through Sayulita is an experience in itself. It is not a tourist town, but a local surfing town filled with good vibes. The houses are all painted bright colors and the streets are decorated with vibrant decorations and flags. At the surf lesson we met our instructors, Kevin and Adrian "Gato." They prepped us on the beach for how to lie on the surfboard, and how to pop up, but nothing prepared me for the excitement I felt when I first got up on a wave. It was pure joy to stand up on the board thinking, "Holy Shit! I'm really surfing!" It was such a rush and feeling of accomplishment. In the water I started to feel a sense of community and support among my fellow travelers. We cheered each other on when one of us got up. We were from such different backgrounds and places but we all shared in the excitement of each other's success. My favorite memories of surfing were seeing Toussaint and Christine kill it. They were the first ones in the water and last ones to come out, tenaciously chasing the bigger waves like they had been doing it all their lives.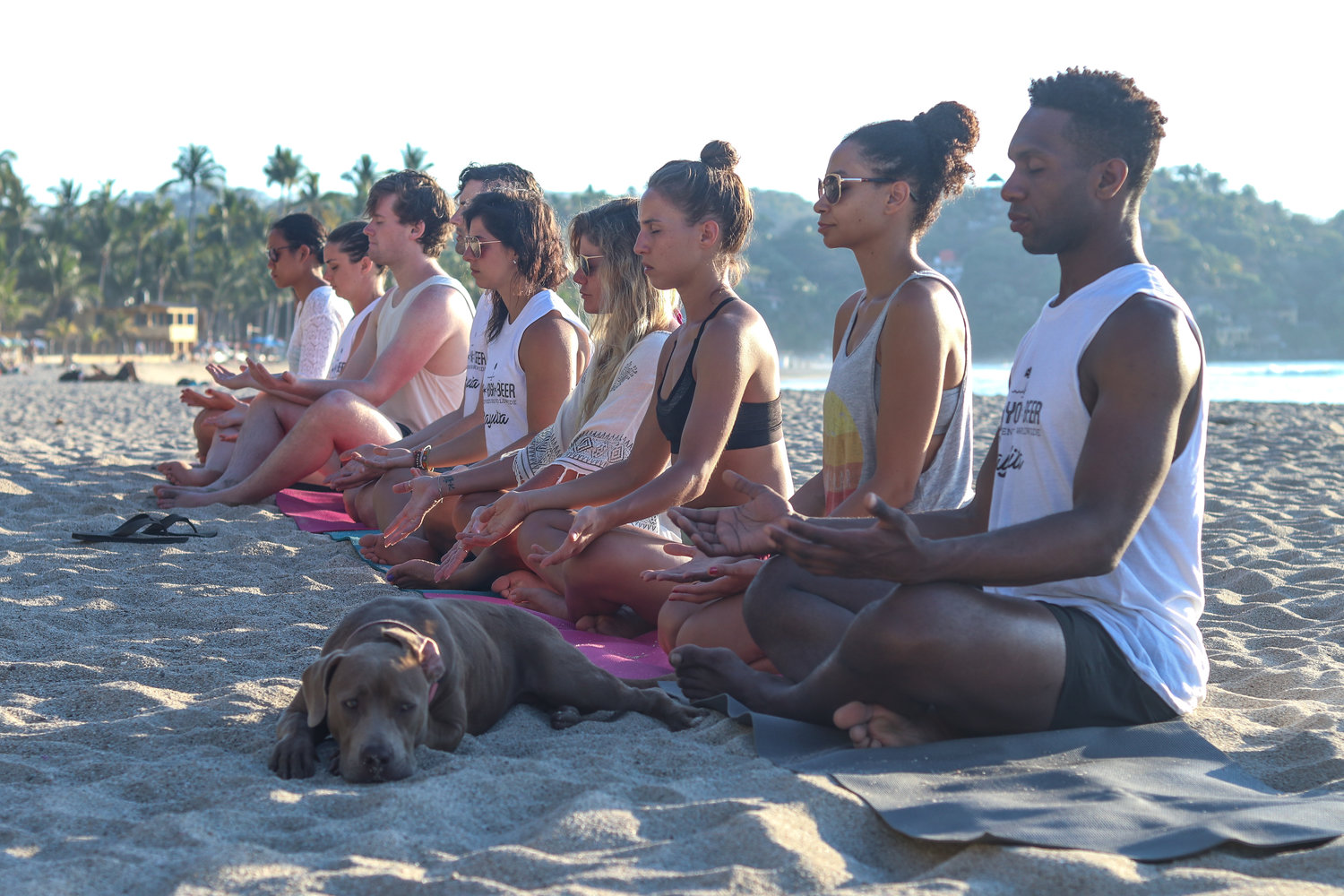 Meditation on the beach with our friend Buddha the pup!

On the third day of the trip we did a hike to Monkey Mountain. We drove through a local cattle farm, getting checked out by the local cows and goats as we passed. As we were about to start out, Gato briefed us on the hike. He told us it's a hard hike but the views are worth it, and then casually told us about all of the potential wildlife around us, this is the jungle after all. So out of my comfort zone, I went up the mountain and it was totally worth it. The hike was challenging, but when we reached the top the view was stunning. We saw the beautiful pacific coastline and greenery, and killer yoga poses from Mary, Kingsley and Toussaint that should all be on a postcard.
The day started and ended with group meals, and I can say that staying in was way better than eating out. There is no wonder that Eddie has two successful restaurants in NYC, the man can cook! I am not sure how he did it, but when he disappeared into the kitchen, not long after a feast of delicious creations would appear. Sitting around the table, we all shared our roses and thorns of the day. The thorns were pretty hard to find, but most of us had more than one rose to share. That day before dinner, Toussaint and I had gone for a swim. Coming up from the beach I realized that for the first time in a very long time I had stopped worrying about what was next to come, I was just enjoying the moment I was in. This was one of the biggest roses of my trip—I had allowed the rushing of New York to leave me and to simply be present with the people around me.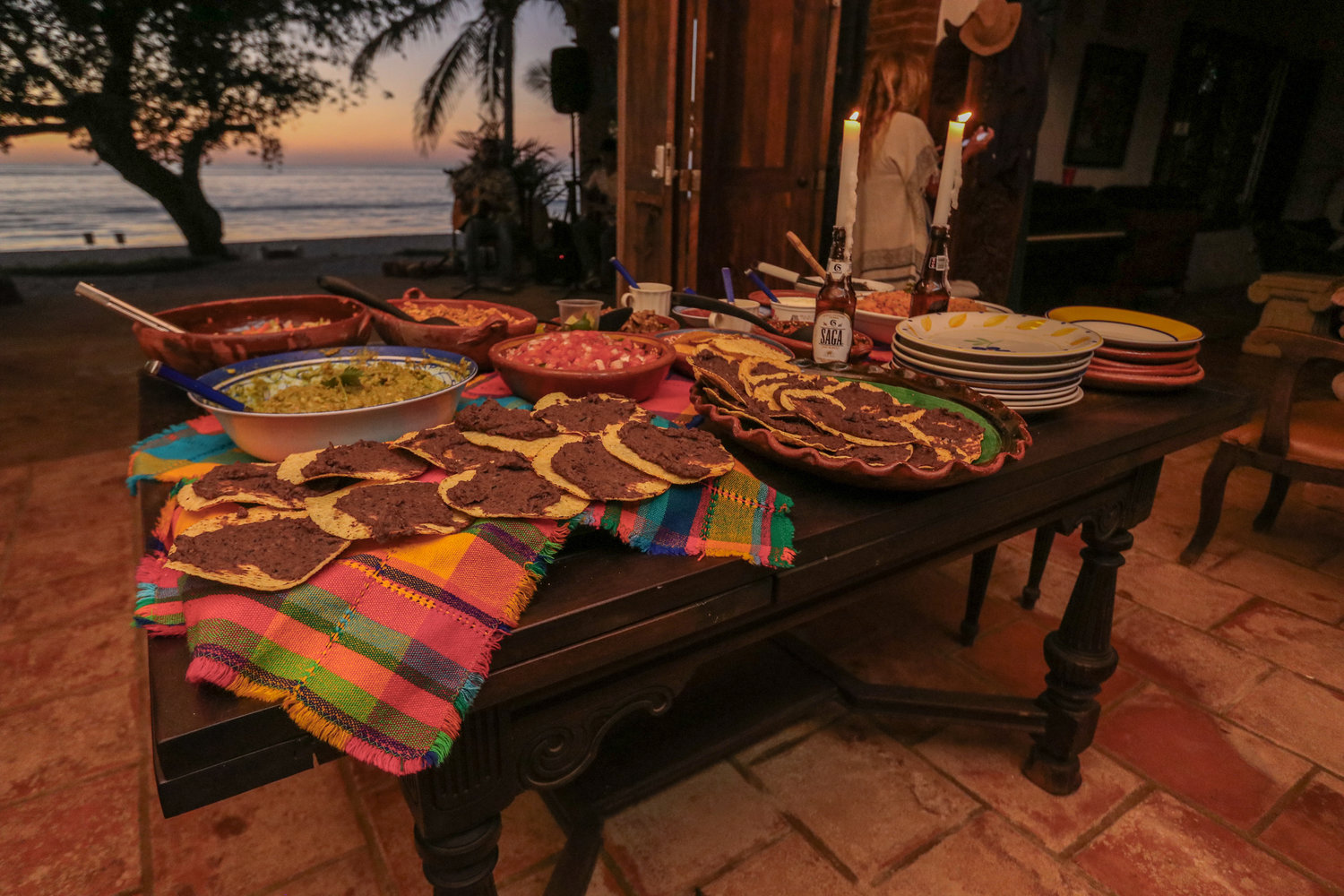 Epic Salud NYC meals.

Our last day may have been my favorite. The crew headed out on a booze cruise to an island off the coast where we spent the day snorkeling, paddle boarding and sipping on some pretty delicious cocktails. I finally got to see a dolphin AND got to play on an epic waterslide. I didn't think that you could have that much fun on a slide as an adult ever; good thing I was wrong. We took a tour of the island and spend a little time exploring the caves. I watched as Cole lead the charge into a very small dark cave, military crawling into the abyss as the rest of us watched debating whether to follow or not. At first my thoughts went to a newfound phobia of small spaces, and then I realized when else would I have a chance to find out what was on the other side? So I YOLO'd it and followed. This was one of the moments that made coming on this trip worthwhile: being faced with a fear and conquering it. The cave was dark, wet and a super small space, but when we reached the beach on the other side I was happy I did it. We finished our mini tour of the island and caves and chilled on the beach to help Toussaint sort his rock collection.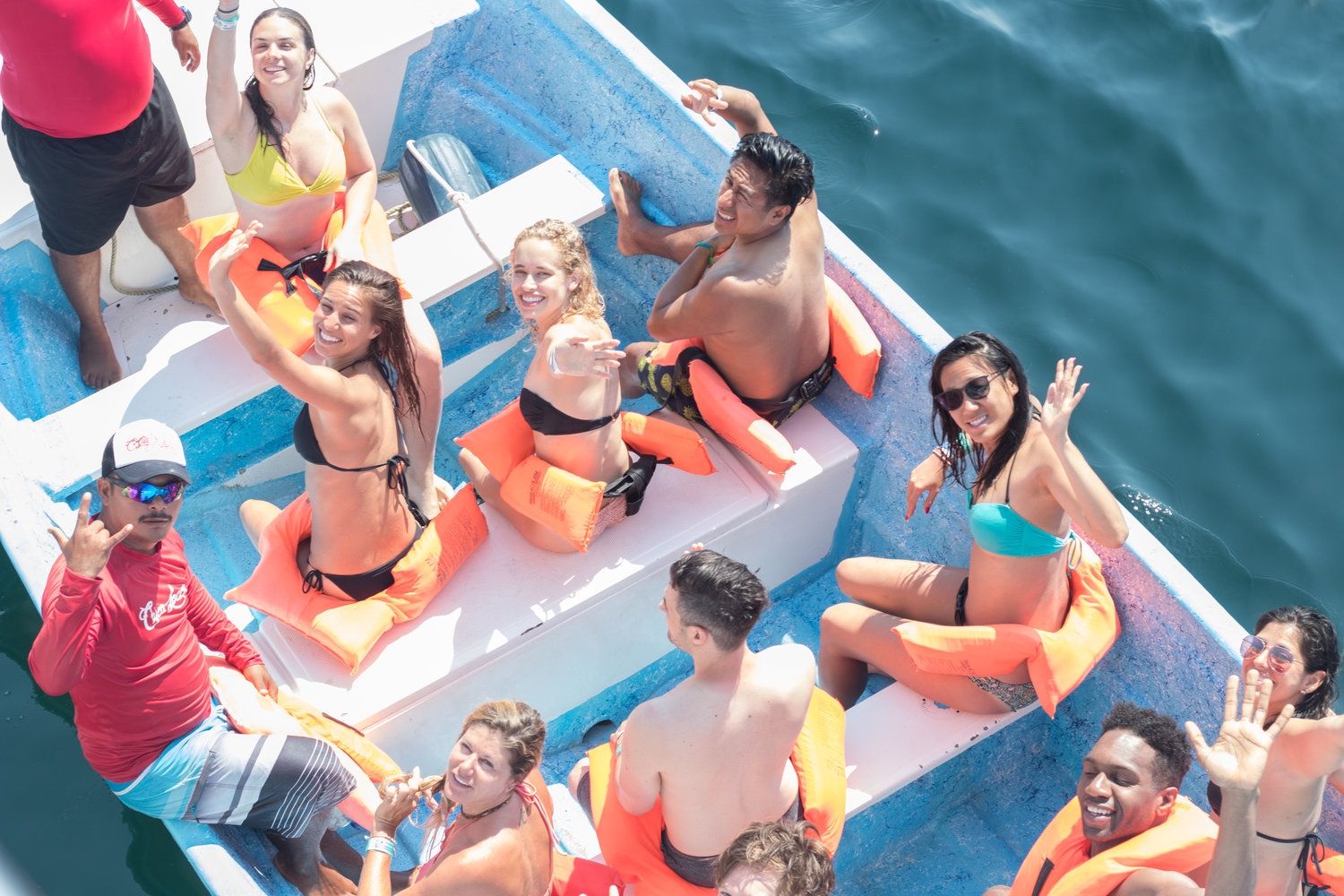 Off to explore the caves!
My Surf Yoga Beer experience was something that I will carry with me for a long time. I met 11 new amazing people, all open and excited for new adventures. In the last six months the trajectory of my life has completely shifted and I was thrown unexpected challenges. This trip gave me back a part of me that I had lost along the way. I was forced out of my comfort zone, faced fears in more ways than I knew, but most importantly it taught me that I may be a little braver than I give myself credit for and I might be a little stronger than I thought. So thank you Kingsley, Eddie, Mary, Toussaint, Patrick, Cole, Noah, Christine, Heather, Susan and Napalonia for showing me this. As I peel away the last layers of my Sayulitan sunburn, I find myself scrolling the SYB website for the next adventure and wondering where it will take me.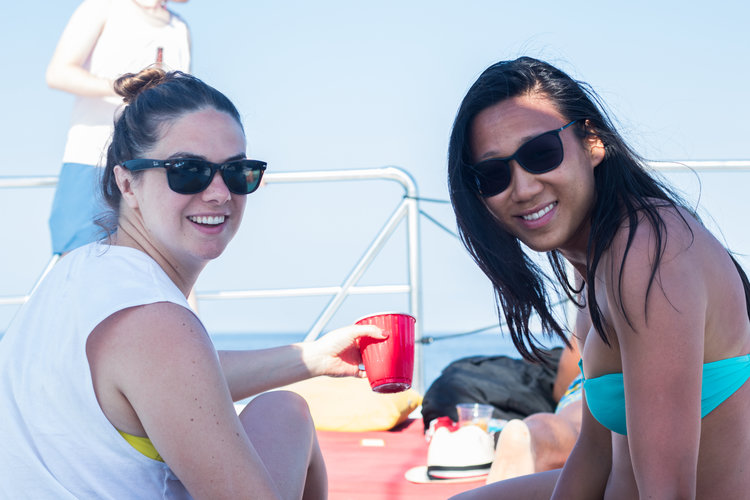 Meaghan and Christine sailing the high seas.

Meaghan McCann is a 30-year-old native New Englander who has lived in NYC for the last six years. After realizing that her Hogwarts acceptance letter must have gotten lost in the mail, she decided to give the school of SYB a try.
Posted on Thu 3 Aug 2017