Summer of Surf | Cole Kennedy
"SurfYogaBeer - It's exactly what it sounds like, and it's one of the best experiences I had all summer, if not ever." -Cole Kennedy


Waking up at 5:30 in the morning to exercise before I go exercise is, I assure you, not something I make a habit of doing. If I wake up early, especially that early, it's so I can spend more time drinking coffee and eating eggs over easy and hash browns all slathered with cheese and, well, you get the point.
So, when on a Friday a couple weeks ago I found myself waiting for the C train before the sun had even risen, I might've been a bit delirious, but I was actually excited to saddle up at SoulCycle NoMad. I was there because Mantas, fitness dude extraordinaire and all-around cool person, invited me to come to his class before we departed for the Rockaways. Beaches are fun! Beaches are relaxing and stuff. I'd be fine.
After SoulCycle, Mantas and I walked to Union Square to meet up with the rest of the Surf Yoga Beer crew. Are you familiar with Surf Yoga Beer? It's cool if you're not, because it's exactly what it sounds like. It's a group of people leading fitness adventures for normal people like me. Sometimes you surf. Sometimes you do yoga. Sometimes (usually) you drink beer afterwards. Sometimes you do other things.
In our case, we crammed into a van so we could head down to Rockaway Beach and (their words, not mine) "play some beach games, do some yoga, take surf lessons, and eat tacos." Pardon my language, but that is a fucking awesome thing to do on a Friday. And yet, it was fitness. Exercise. Isn't exercise supposed to suck? I hate working out!
"Beach games" turned out to be half games, half boot camp drills. Do you know how hard it is to play tag on the beach, let alone do lunges and squats? Spoiler alert: It's hard. But we were all smiling. When my legs were wobbling and I could barely lift my foot another inch off the ground, I laughed. Around the circle of total strangers, there was palpable joy in how wiped out we felt. And we still had the surfing part of the day to go.
One thought that kept washing over me on the beach, was how remarkable that this experience could be had right in New York City. We weren't in Southern California. Hell, we weren't even at the Jersey Shore. We were in Queens! I could ride the subway home!
And then, another thought: Why was I having so much fun? I was exhausted to the core, and I kept paddling out to try catching one more wave. My muscles burned from all the activity. My eyes burned from the salt after I fell every time I tried to stand up. My skin burned because no amount of sunscreen will ever prevent my misery. I should've been mad or at least grumpy (I'm notorious for being grumpy). But I wasn't. I was ecstatic.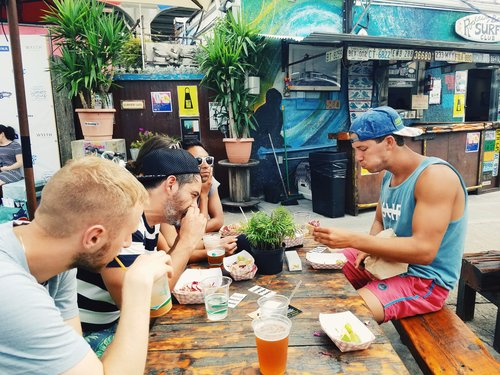 After surfing, we packed up and carried the boards back to the shop, and true to the SYB name, went to grab tacos and beer at Rockaway Beach Surf Club. Sitting around tables, eating fish tacos and chorizo tacos and tofu tacos and drinking beer, all a bit bleary-eyed from the day, not a single person complained. I've gone to other boot camp-esque events, and afterwards everyone finds common ground in how bad they feel. After Surf Yoga Beer, there was nothing but camaraderie in the good vibes and an eagerness to do it again. To get back on the board, paddle out one more time, and catch one more wave.
Summer is coming to an end, but I can't wait to get back to the beach. I can't wait to experience what else Mantas, Bradford, Kingsley, and the rest of the Surf Yoga Beer crew have in store with trips to Nicaragua and Havasupai. I can't wait to spend some more time with the awesome people I met. I can't wait for my sunburn to go away.
I can't wait to do it all again.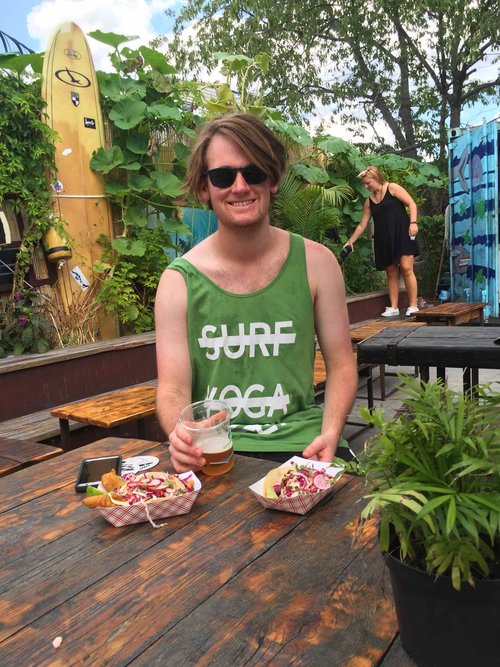 Cole enjoying tacos after a day of workouts and wipes outs.
Cole Kennedy came to one of SYB's Summer of Surf Fridays in 2016. Be sure to check out our latest local events in New York City.
Posted on Mon 19 Sep 2016