The Moment I Knew | Morocco 2018
We are the brave ones, the ones who do the hard things awkwardly, tumbling, fumbling, flailing down sand dune dreams, fueled by the burn of our fear-freckled optimism...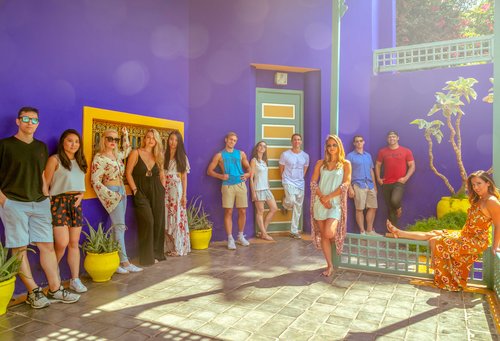 You'd think that if Mantas, the humble epitome of the cool guy in school (school being SoulCycle in this case), asks you "Do you want to go to Morocco?" you'd instinctively respond "hell yeah I want to go to Morocco!" Yet having wrestled a lifetime with anxiety, my mind immediately flashed back to my first time traveling abroad alone in Israel, sobbing in a grimy hotel room, texting my mother over the spotty wi-fi with tear-stained emojis shouting "I DON'T KNOW WHAT I'M DOING HERE." But a year had passed since then, a year of highs and lows, of success in work and failure in love, of therapy and meditation, running a half marathon, playing Switzerland through my parents' divorce and dual cancer diagnoses, and getting seriously stronger both inside and out.
Posing at Yves Saint Laurent museum
So I said yes, yes to 6am wake up calls on three hours of sleep, yes to desert-heat workouts and late night dance parties, and intimate conversations about life and fear and love and death with beautiful habibis who were only strangers just two nights before.
The moment I knew I was welcome: singing my heart out during the introductions that first night, and all the high fives that came after.
The moment I knew I was strong: running alongside Mantas in Marrakech, testing a course that included crawling through a shrub, a run that would have doubled me over only a year earlier.
The moment I knew I was brave: driving an ATV over towering sand dunes in the Sahara desert.
The moment I knew I was, had always been, and always will be ok: sending a floating lantern into the African midnight sky, wishing for nothing more than this moment, this life and to dare myself to live it fully.
What draws me to fitness is that doing the things you never thought you could do changes you. And it sucks because now that you know anything is possible, there are no legitimate excuses- you can no longer stand passive, paralyzed by the unknown because you know too well that you can survive it, you can cozy up to the suck, and as long as you're still breathing, as long as you don't stop moving you will finish. And into the awkward hurt we go, because that's where the change happens, that's where the growth is. In the just…one…more.
Our group out on a sunset camel ride
We are on this planet for a reason. To open ourselves to what's possible- to leap into discomfort and meet ourselves stronger and braver on the other side. To open ourselves to each other and dive beneath the surface of "how are you" and swim to the bottom of "who are you?" It's in that space that we become connected, transformed, and truly alive. This Moroccan journey was a milestone for me: showing me how far I've come, healing what was once wounded, reminding me that everything I want is on the other side of fear. If we only have one life let's be in love with it— for me, that means dancing, singing, sweating, laughing as much as possible, surrounded by a courageous community, telling our stories and finding new ways to help each other grow.
Holly getting thrown into the pool after a workout
CATCH SYB BACK IN MOROCCO JANUARY 2019
Written by:
-Holly Mitchell, CEO and Leadership Coach at Central Park West Dentistry
MORE PHOTOS FROM MOROCCO 2018:
Workouts everyday
Sand boarding the Sahara desert
Stand Up Paddle boarding in Essaouira
Our last night together
Posted on Sat 18 Aug 2018