Fitness Retreat or Adventure?
One of my first days "on the job" I was asked by our caveman founder, Mantas, to tell a stranger what exactly SurfYogaBeer does. In a panic, I came up with something along the lines of, "We are a fitness retreat company that travels around the world and keeps people active while on the trip."
My second mistake was saying retreat... A retreat, as defined by my girl Merriam, is actually an act of withdrawing especially from what is difficult, dangerous, or disagreeable.
That is most definitely not what we do here. At SYB, as the true homies call it, we go on adventures. These adventures have taken us through the jungles of Costa Rica, the mountains of Iceland, the deep seas of Belize, the ashes of Pompeii and through the time machine that is Cuba. Not only that, you'll come home with 20-30 new best friends and become part of a community of like-minded people.
Bunch of babes that didn't know each other and now are besties... 2018 Nicaragua
At SYB, we are taking it further than just a workout or yoga class, we are a culture of balance and a community of fun, sweaty, beer-loving people!
While we do escape to some of the most beautiful places in the world, we also bring the energy of a hyperactive preteen and the heat of an NYC workout class- literally. We travel with some of NYC's most well-known workout instructors.
Yea we go to cold places too... 2016 Colorado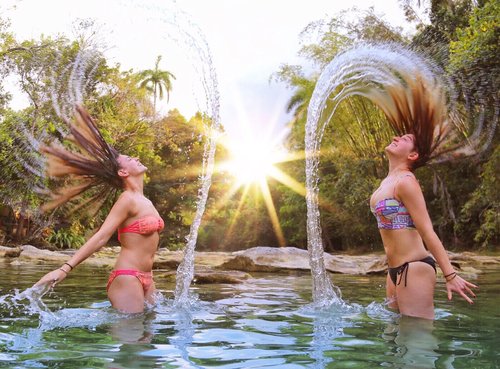 Start your day with a boombox wake-up call and with a DTJD (don't think just do- our motto) attitude. We sprinkle positivity and good vibes in our breakfast, cooked by none other than our own Chef Eddie from Salud NYC. Don't worry, there's always time for tequila shots and chilling by the pool.
Let's be honest, sitting on a beach for a week gets pretty boring and according to a Hotels.com survey, as many as 80% of travelers between the ages of 18-35 would like to stay active on vacation. Duh, once you get those endorphins flowing, there's no stopping you from serving up your best moves on the dance floor at night (and if you can't dance we typically get salsa dancing lessons to spice things up)!
SYB babes making our professional photographer get their hair flip in 2017 Cuba
This is about creating habits, not goals. In just a few days you can jump-start your habits. Mantas constantly talks about his habits-over-goals mindset whether it be in the office, on the podium at SoulCycle, or on a 5 mile run at Run Club. This has helped him commit to a process, not an outcome. When you're doing what you love, success just follows.
Vacationing can still be fun while maintaining your six-pack (or lack thereof). As a wise man once said, "Work hard, play hard."
Poolside chill time in 2017 Costa Rica
So pack your bags, come one, come all and see why people keep coming back. DTJD!
Posted on Wed 20 Jun 2018