Enough 'Normal Concept' Try Something Different
"You have no idea who you're going with?!"
That became the typical response that I would hear when telling people about my upcoming trip to Iceland with Surf Yoga Beer. It was always said with a little shock and definitely some awe.
I didn't take offense to this of course, sure it's out of your normal concept of a vacation, but having done enough "normal concept" vacations to this point I wanted to give a different style of vacation a shot.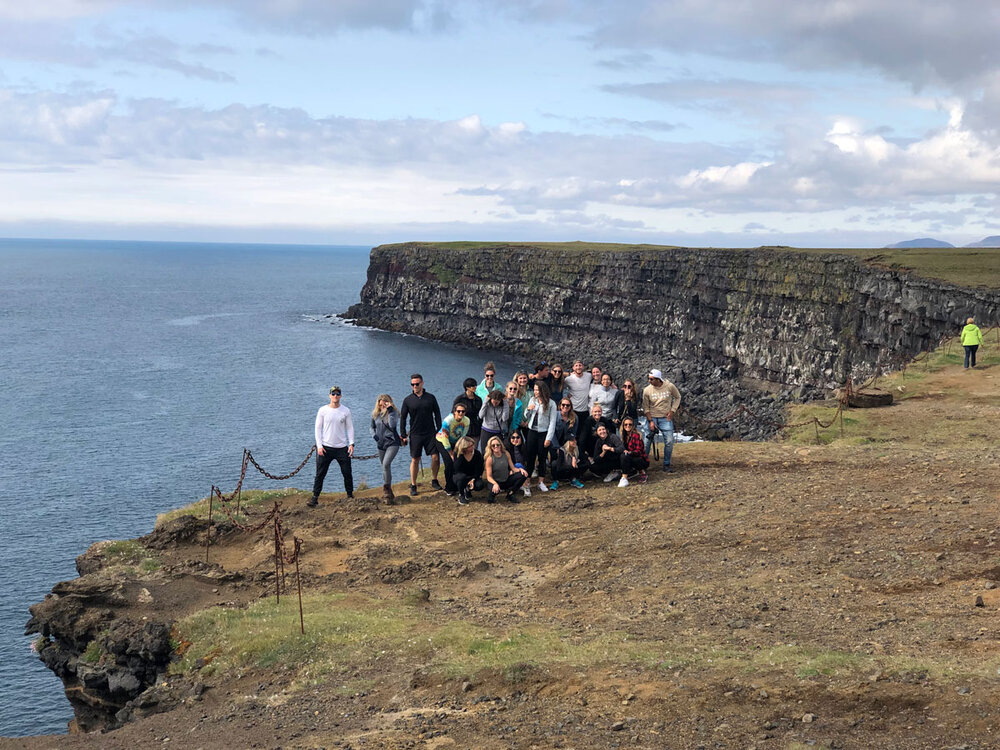 I found myself on the night of my flight to Iceland looking around the boarding gate trying to pick someone else out who might be going on the same trip I was. I thought, "let me get a jump start on meeting someone, someone I can walk up to the rest of the group with when we get to Reykjavik, kind of knowing them so I wouldn't be on my own". My eyes gazed at the carry on luggage of everyone sitting down, standing, up and walking past the departure gate. Not a single yoga mat or pair of trail running shoes to be seen. Looks like I'm going head on solo.

After an overnight flight filled with little sleep and a racing mind I stepped onto the island nation of Iceland and began searching for the group of strangers I was fixing to live, eat, and trail run with for the next five days. Walking through the airport I again couldn't help myself but look for some kind of sign of another member of the party to greet the bigger group with (having one of the latest arrivals, I assumed that I was holding up the start of the trip for the rest of the team). Again, no luck. "Alright let's do this" I thought to myself, just go in there, smile and start shaking hands.
'THIS IS GOING TO BE WILD' I SAID OUT LOUD TO NO ONE IN PARTICULAR AS WE STARTED TO HEAD FOR THE BUS.
Finding the group was an easy task once I made it to the correct wing of Keflavik Airport. There they were, my future Iceland family taking over an airport coffee shop and cafe. Before I was even halfway from the escalator to the entrance a recognizable voice from the SYB New York run club instagram story calls out "Are you Steve?" "Yeah" I replied almost shouting, "is this the Surf Yoga Beer Group?". "Sure is, I'm Jen". I instantly did not care about walking up to this group of strangers by myself. I was immediately welcomed not only by the coaches on the trip, but the 24 other athletes who signed up for this adventure. The physical drag of needing sleep disappeared and an excited feeling started to fire through my body. "This is going to be wild" I said out loud to no one in particular as we started to head for the bus. "It sure is" said Stefan, "can you carry the extra liquor Mantas left behind" he then asked. Grabbing it, I knew I made the right decision booking the trip, as I was exactly where I wanted to be.
THE VIEWS ON THAT FIRST RUN WERE INCREDIBLE, BUT THE EARNING IT ATMOSPHERE REALLY ADDED TO THE BREATHTAKING SIGHTS.

After an epic sight seeing drive full of cliffs, ocean views, and a squat challenge in a parking lot after lunch, we arrived to our isolated abode which was about 40 minutes from the nearest town. A large farmhouse style hostel, seemingly lonely in a vast rolling country side, totally booked by SYB was going to be our home base. After getting our room assignments and a quick tour and change out of our travel clothes, we jumped right into a yoga warm up and bootcamp session before embarking on a 3 mile jog to a lighthouse peaking over some sandy dunes in the distance just visible from our front steps. The views on that first run were incredible, but the "earning it" atmosphere really added to the breathtaking sights.
After a photo shoot at said lighthouse and with the shampoo commercial ready Stallions nearby, we were off again to Selfoss (the nearest town) where we took turns polar plunging into an Arctic tub (30 degree water), and then warming our bodies and muscles in various hot tubs at the local pool. Much to the delight of the kids at the pool, the group also participated in the waterslide on site. Do we ever really grow up? We should try our best not to.
Upon our return to our countryside hostel, we were treated with a dinner spread via Salud NY fit for a bus full of people who had been traveling all day. It was just what the doctor ordered. Drinks casually started flowing and the rest of the night was spent in sweats with everyone getting to know each other, our special talents, and dream jobs.
KNOCKING OUT TWO TO THREE WORKOUTS A DAY, AND NOT SLOWING DOWN ONE BIT WHEN THE NIGHTLIFE SHOWED UP.
The next five days were a wild combination of the shortest and longest days of my life, no really, the sun only set for about three and a half hours each night so it was always light outside, not that we slept much anyway. The team was waking up early, and staying up late. Knocking out two to three workouts a day, and not slowing down one bit when the nightlife showed up. We all became great friends running next to waterfalls and sharing spectacular views, but we became family on the bus rides and dinners together and dance parties. We explored rocky trails of waterfalls that were fueled by runoff from a nearby glacier, so cold and clear you could drink straight from the stream. We adventured to a beach with smooth black sand as far as you could see, and if you looked hard enough you could see puffins floating in the ocean almost mocking us that they were too far away to get a good photo. We chased lambs on top of cliffs, and turned private restaurant rooms into our own personal dance clubs. The squad became regulars at the Selfoss pool, giving waves to the locals as soon as the second visit. It became our source of rejuvenation as we relaxed in the warm waters. It would occasionally rain lightly, causing a mist to form above the water, just adding more magic to the land of elves. We braved 30 degree water to take in crystal clear underwater canyons through the lens of a snorkel, and had a professional photo shoot on a glacier that Jack and Rose could have easily survived on long enough to be properly rescued. We hiked to what some would consider the most romantic natural hot tub in the world, snuck into a green valley with flowing waterfalls on all sides. We did the most SYB thing possible, brought three bottles of liquor with us and a speaker, and turned up the vibe a little bit for the other participants at the spring, they just let us have our party and took in the views with our tunes. When you get a group of like/open minded people together and everyone starts feeding off the fun everyone else is having, the excitement never ends.
FOR THE 4TH TIME IN 5 DAYS, WE WATCHED THE SUN RISE (ALBEIT IT WAS ONLY 4AM).
The last night of the trip, we spent in the capital city of Reykjavik. Everyone was treated to a shower that was longer than three minutes for the first time since we arrived, and some of us actually had some time to relax. But the separation from the rest of the group eventually got the best of us and we wasted no time by ourselves, the What's app chat got fired up and soon a rockstar level pregame had broken out in one of the hotel rooms. We quickly met up with the rest of the fam in the basement bar of the hotel we were staying at to help finish a 28 beer tower, prior to strolling the streets of the city on our way to dinner, having impromptu photo shoots and breakout dance sessions nearly ever step of the way. Once dinner had ended, and the SYB awards were handed out, the city once again became our playground and play we did. For the 4th time in 5 days, we watched the sun rise (albeit it was only 4am).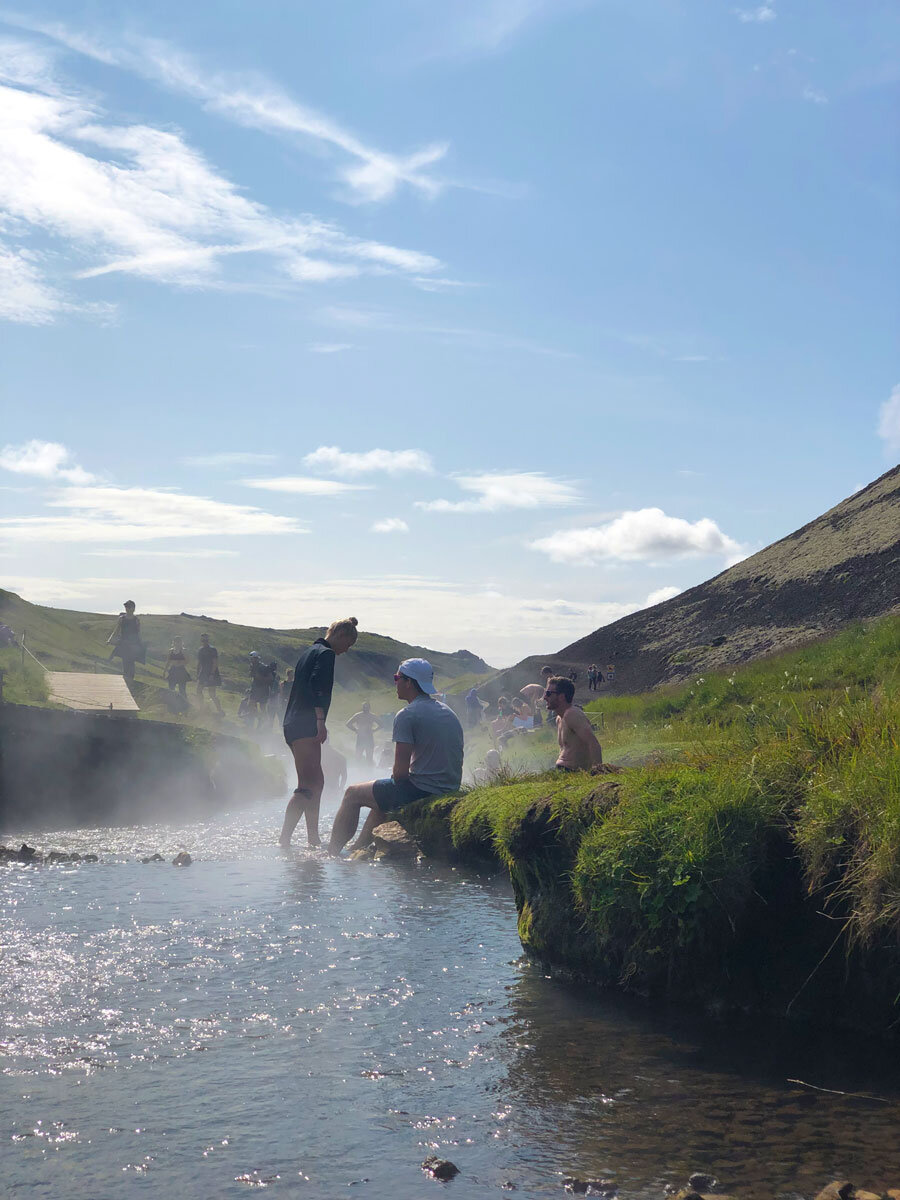 Reflecting on the trip two months later, and looking back through the photos I realize that Iceland was a great host, but it's not Iceland that I would rather go back to, but visit the friends that were made from New York to San Diego and a few cities in-between. They're the ones that truly made the trip one to never forget, and the ones to now motivate me for the next one.
---
Stephen Hoffman was a guest on our #SYBIceland 2019 adventure! Find him on Instagram!
Posted on Thu 17 Oct 2019