Oahu Retreat 2016 Testimonial | Allison Kennedy
"Maybe this is why I don't take vacations."
I'd be lying if i said I hadn't panicked when the SYB Oahu itinerary came out.
- I'm fit-ish, but what if I can't do all of the physical activities?
- What if I don't want to do all of the 6AM wake ups?
= Does everyone know one another before the trip? Will they be open to a rando going solo?
A strategist by trade (and type A by nature), I typically need to gather a ton of context before making a decision and feeling good about it. And believe me, I had a list of "need to know" questions as long as the flight from NYC to Honolulu.
What I didn't realize before landing, was ...my fears and anxieties were totally unfounded.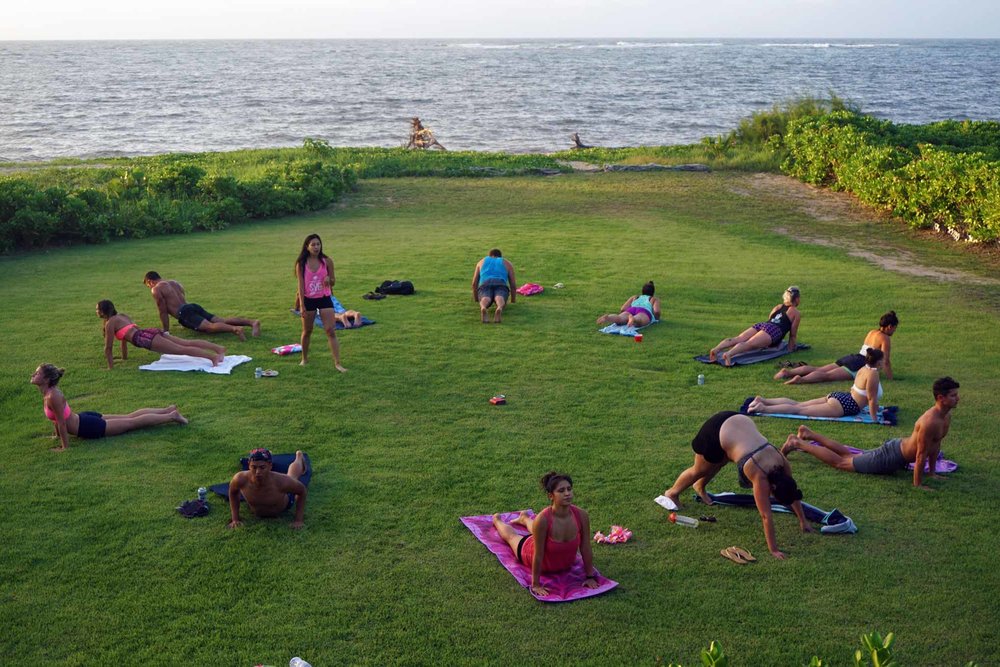 SYB crew doing morning yoga
The activities: "'Because in the end, you won't remember the time you spent working in the office or mowing your lawn. Climb that goddamn mountain." - Jack Kerouac
Yes, all of what we did was physically challenging. But the best part about such a diversified itinerary — kayaking, hiking, stand up paddle boarding, surfing, yoga, bootcamp — was the opportunity to try things I'd ordinarily shy away from, and come back with the stories, muscles, and bruises to show for it.
Everyone succeeded at something, and failed super hard at something else during the week.
Because the playing field was constantly leveled, it was impossible to give up or not want to try something a little outside of my comfort zone. I regularly saw my new friends tackling adversity head-on, and saw how instinctively we had their backs — literally and figuratively — knowing the same would be done for me. Like when I casually slipped off a hiking trail, for example.
Pro-tip: bring proper hiking footwear.
The structure: Don't think, just do.
This trip was an exercise in letting go.
SYB left very little room for decision making (in the best way), or second-guessing anything. Opportunities were served up on a silver platter; my only choice each day was to say yes or no.
I wasn't going to oversleep, because someone from SYB woke us up every day (spoiler alert: wake-ups were done with 90's hip hop).
I wouldn't go hungry or show my hangry side; there was always fresh coffee and amazing, healthy food waiting in the kitchen thanks to SALUD.
I'd be prepared for whatever we embarked on; we were told each day what to wear, what to pack, and when to leave the house.
Once the trip started, my biggest daily concern was: am I wearing enough sunscreen?
Side note - did I mention we stayed in a Real World-style house? 2 kitchens (one side with produce, one side with beer), huge dining area and patio for family meals, private and shared bedrooms, pool and jacuzzi, private backyard and entrance to the beach. #nbd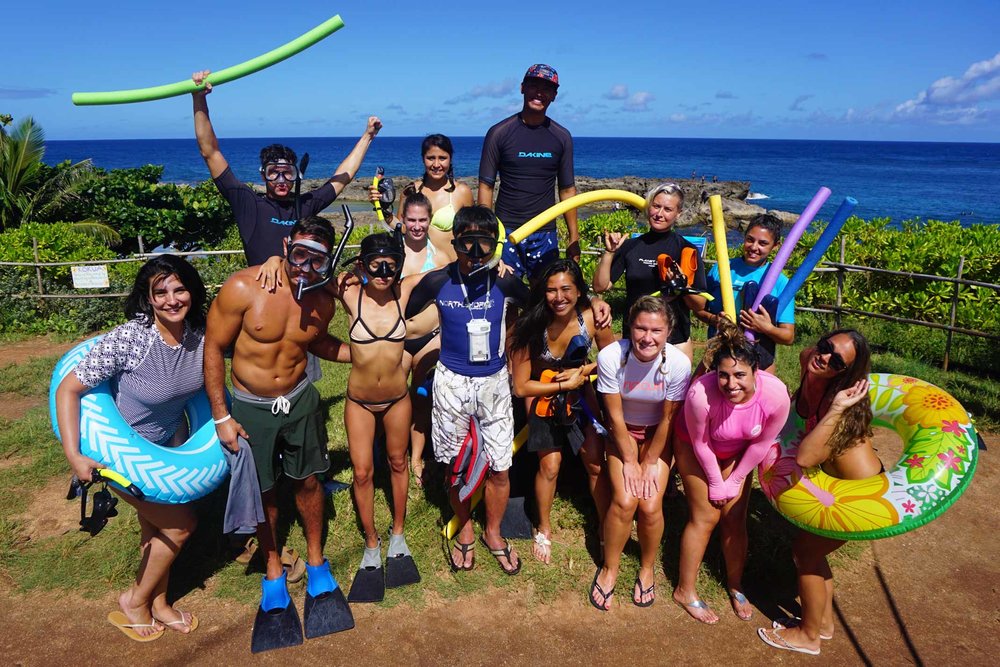 SYB Crew going snorkeling
The people: "This is the true story, of [fifteen] strangers, [volunteering] to live in a house, work [out] together, and have their lives [documented on Snapchat]. Find out what happens, when people stop being polite, and start getting real."
Our trip leaders told us our group showed some rare qualities — instant and meaningful connections, overwhelming support amongst relative strangers, zero drama, and laughter. So much laughter. ...Thank goodness for the epic group texts that recapped the best one-liners in real-time, for the nights I went to bed "early."
There were ample opportunities to get to know each other on an individual level — as kayak partners, in the hours before/after the trip officially started/ended, during profile pic photo shoots — and for as quickly as we all bonded, it's amazing to think our paths hadn't crossed yet.
Granted, I'm only two weeks post-Oahu, still seeing the world through my sea-salted-sunglasses, still desperately maintaining my tan with coconut oil, and still (shamelessly) pulling clean clothes out of my suitcase. But I'm inclined to believe there really is something special about this group.


3 days into my re-entry to work and life in NYC, I booked a meeting with a senior executive at work. I sat in her office, stumbling over my words. "I've never been on a trip like this before - the place, the things we did, the people - they were all so great. It makes me wonder … maybe this is why I don't take vacations. It's so hard to adjust being back, after such an amazing time away."
She told me that when we give ourselves a gift like this, we have to hold on tight to the feelings, the very specific memories, the reason we gave ourselves this opportunity, and take the time to channel them, very deliberately, when we're back in our "regular" lives.
And ….to maybe take more vacations like this one.
Posted on Thu 27 Oct 2016