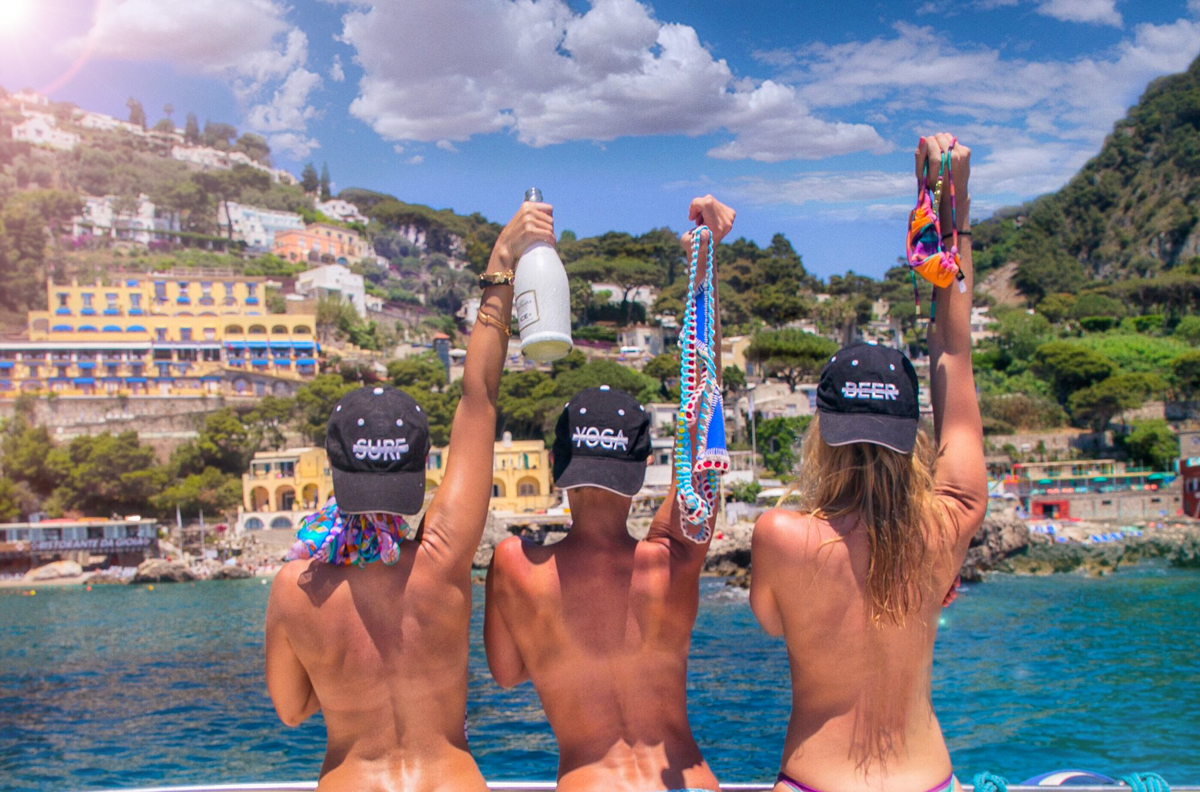 EAT | DRINK | SWEAT
• June 15-22 (8 DAYS) • SOLD-OUT
• $2,800 Single Person (Deposit + $2,300) •
• $3,600 Private Room (Deposit + $3,100) •
• $4,800 Private Room (For Two People) (Deposit + $4,300) •
Purchase a deposit to reserve your spot
Welcome to the pearly gates of heaven (SYB edition). We're taking it to the sparkling waters of Italy and we're ready to get our linguini on. This is beauty only to be believed by your own eyes, tongue, and nose- come see what has been seducing travelers since the Roman Times.
Join us for an unforgettable week of exploring one of Italy's most gorgeous regions- the Amalfi Coast. We'll be staying in a private villa in Nerano, neighbor to Marina Del Cantone- the region famous for its Limoncello (we'll consider this a fruit if you do). Since our villa has its own pizza oven, why not dine like the locals and make our own pizza? Like the celebrities we think we are, we'll sail around the famously beautiful islands of Capri. We'll also go on an excursion to the stunning Blue Grotto and enjoy guided tours of Pompeii, Ravello, and Positano. To get our sweat in, we'll do morning runs up the countryside and then spend the day relaxing and enjoying the views from our waterside villa. Sounds a little bit better than doing abs in your apartment, right?
June 15th ARRIVAL
---
Arrive at Naples airport by 1pm to make the SYB shuttle to our house for the week! We'll get to know each other, have a few drinks and dinner at our place with a lot of SYB suprises!
June 16th A FULL SYB DAY
---
Get ready to experience SYB to it's fullest. We begin with wake up calls, more on this later, go straight into morning workouts, yoga cooldown, a dip in the pool to clean up, and a hearty breakfast all before it's even 9am.
The SYB bus picks us up at 10am and we're off to visit Duomo, shop in Amalfi, and visit the Villa Rufulo and Cimbrone. We're grab lunch at Cumpa Cosimo and make our way back to our place.
Dinner will be in Marina de Cantone on the water with lots of wine! Where this night takes you is your story, but this is just day 1.
June 17th CAPRI BOAT DAY
---
Similar to day 1, we mix it up with a few things to keep you on our feet. Then have a full day of boating around Capri. We'll have a chance to explore Capri, the expensive shops everyone wants to see and grab lunch at Pappone restaurant overlooking the marina.
Upon return, we'll freshen up and have dinner at our place. Music, Limoncello, disco lights, and pool party will commence.
June 18th LOCAL DAY
---
We'll have our early morning bootcamp today by runing to the top of Marina De Cantone's hilltop church. This will be about 6 miles total and we'll be doing it 7am. Watch the sunrise at the top, believe us this is perspectie twisting and very healthy mentally for everyone to do. We'll continue the day by exploring our local town and beach. We'll all hike to Ristorante Conca Del Sogno, otherwise only accessibly by boat, but we know some secret routes.
We'll end this day with a pool party and dinner from 4pm at Gocci Di Capri, one of our favorite spots! The DJ is great, the drinks are strong, it's nearby, and the views are incredible!
June 19th POMPEII
---
We begin this day with a hangover, but it's ok because then we're doing lot of culural exploration. After our 'optional' workout and breakfast, we head to Pompeii for a rich historical and very funny tour. Afterwards we head to a winery on Mount Vesuvius, we'll have a wine tour, have a chance to buy some of the best wine in this region and eat pasta with ingrediants that we're made from the winery - unbelievable food.
We'll let all that settle in, enjoy some free time back at our place and have dinner in at our place!
June 20th POSITANO
---
One more chance to get the church run at 7am. Bootcamp after that, then we head to Positano - by boat... #baller
We take our own time to explore Positano, no tour guide as it's too small and beautiful. This is a great time to have some alone time or chill with your new besties.
We'll all meet up Buca di Bacco, right on the water front for dinner.
June 21st PIZZA PIZZA
We'll sleep in till 9am, give it a go with our last real workout, eat up a full breakfast and begin our last day together. We'll have options to take our own boat to a secret beach and hang on the water all day with a bottle or champagne and some cheese.
After exploring all day we head back to our place for pizza making time! Everyone will have a chance to create their masterpeices and share them with the group!
We'll have our SYB awards ceremony and finish this adventure off the most beautiful way, you just wait and see!
June 22nd BACK TO REALITY
---
Everyone will be checking out at 8am. Book flights to leave after 1pm if you're planning on taking the SYB shuttle to the airport.
Until next time... or until we throw our next party because this friendship just started!
INCLUDED HIGHLIGHTS
Luxury accommodations (bidet toilets and sea views)

Pizza making class

Walking tours of Pompeii, Ravello, Amalfi

Winery tour, tasting and fresh pasta lunch on Mount Vesuvius

Luxury boat tour of Capri

Amalfi pool party

Explore the Positano

Personal chef + bartender
REGULAR INCLUDED
Seven nights of luxurious accommodations in Marina De Cantone

All transportation in the itinerary

All fitness programming (includes beach bootcamps, yoga sessions and surf lessons)

A majority of meals (7 breakfasts, 3 lunches and 4 dinners)

As much Limoncello you can drink (don't test this)

SYB Welcome package (including SYB swag as well as giveaways from our sponsors)

Services of SYB Adventure Leaders

Personal photographer + videographer
NOT INCLUDED
International flights

3 dinners in town

Drinks at bars

Lunches in town

Gucci handbags

Optional adventures
ACCOMODATIONS
We've got a luxurious and beautiful two-story villa located on the coast in front of the island of Capri. You'll enjoy a breathtaking view of Capri, bay of Naples and of Mount Vesuvius in the distance. This place is a total of 12 bedrooms, swimming pool, a wide private terrace with a view of the sea, a private garden, air conditioning, wooden burning oven for pizza parties and WI-FI Internet access.
Can you handle it?
We'll be doing a lot of tours, yoga, and eating... can you handle that?
Going Alone
Yes, in fact that is recomended. We'd love you to be whoever you want on this adventure and bringing a friend could also bring old habits.
But we understand it is intimidating and hard because you feel like you don't know anyone... trust us, this is the way to go!
Flights
We recommend arriving at Naples airport by 1pm on June 15 and departing after 1pm on the 22nd. We will be in full communication before the trip start.
Registration + Payment
Deposit: Your $500 deposit is used to secure your spot and goes toward your full payment. Your deposit is non-refundable or transferable.
The remaining balance is divided into three additional payments with the full payment due 30 days prior to the adventure's start date.
Trip credit (less deposit) may be transferred towards a future trip (within 12 months) up to 30 days prior to the start of the trip.
Please note that there are absolutely no refunds or deposit transfers for cancellations within 30 days of the trip. We strongly encourage all participants to purchase trip insurance just to be safe.
Where are we staying?
In case you miss the designated SYB pick up times from the airport, here is our exact address.
Self Care
It's Italy, lot's of pizza, lot's of wine, we think you'll be fine!
Food
Our food partner SALUD has been doing this Amalfi adventure with us for 3 years now and it is one of his best in terms of deliciounessssss. Believe us you will fall in love with every meal!
And you get to make your own pizza one day!
Safety and Security in the Region
There has been no incidents that we've heard of or come across that would have us concerned. You are safe in the area and very safe if you stay with us.
Sleeping Arrangements
We'll assign you to a room and roomate according to your pretrip form. Please let us know if there are any special requests.
Bathroom Situation
DO NOT FLUSH ANY PRODUCTS, INDCLUDING PAPER, DOWN THE TOILETS.
A bidet is used to wash your private area after using the bathroom. Please do not wash you face or use this as a toilet.