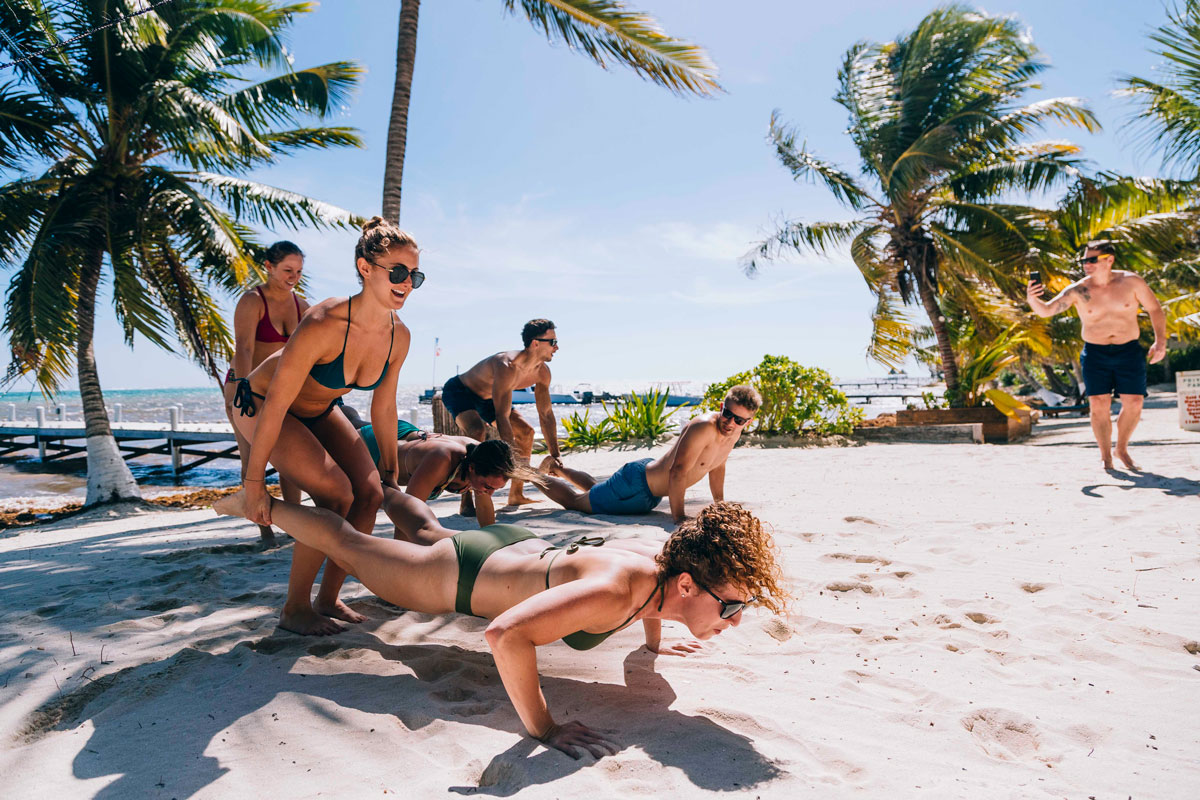 MIND | BODY | LOBSTER
• Nov 26 - Dec 1 (6 DAYS) •
• $2,300 Single Person (Deposit + $1,800) •
• $2,900 Private Room (Deposit + $2,400) •
• $3,950 Private Room (For Two People) (2 Deposits + $2,950) •
Purchase a deposit to reserve your spot
SYB Belize is a lobster and workout adventure that has everything taken care of including transportation once in San Pedro, all meals and beverages (including beer!), guided yoga and meditation practice, intense bootcamps, land & water adventures, and much more!
THE WAY OF BELIZE
Picture this: we wake you up with funky tunes and the smell of locally pressed coffee as the sun rises right outside your bedroom. The white sand beach is right outside our front door and the sunrise reflects in the clear blue water. You take in the sights and sounds of the ocean as everyone else wakes up with a similar mentality, and the positive energy is contagious. We channel the endorphins towards our morning beach bootcamp, and this is how we begin our SYB days in Belize!
This adventure is all about location, amazing weather, and utilizing the environment around us. Belize is known for its extreme biodiversity, making it the perfect place for beach bootcamps, outdoor yoga sessions, and swimming with our fishy friends. Get ready to swim, snorkel, and sweat in one of the most beautiful places on the planet.
Locally sourced meals will be served every day, from breakfast smoothies to filling dinners. And the best part - we have our own private beach bar all to ourselves. Imagine your days filled with workouts, incredible meals, sun tans, boat cruises, and simply enjoying life.
The Details
Location Location Location! Located in the southern portion of the island of Ambergris Caye, San Pedro is one of the best beaches in all of Belize. Clear blue water, white sand beaches, and the Caribbean Ocean right at your front door. Monkeys, turtles, and more fish than you can imagine! Plus, minimal mosquitoes due to strong Caribbean breezes!
Snorkeling! Some of the clearest water in the world, obviously means some of the best snorkeling! Swim with the fishies and coast alongside sea turtles as you troll the Caribbean Ocean floor!
Yoga! Yoga classes on our own stretch of white sand. Nama'stay right here FOREVER!

Food! Fresh locally sourced food. Keeping it healthy and hearty; and embracing the tastes of Belize!
Beer! And of course, there will be relaxing beer moments. Staying true to our 10 commandments, our days are a cycle of detox-to-retox because hell, we're on VACATION. We're here to have a damn good time, not take ourselves too seriously, and leave feeling renewed in body AND spirit.
This is a trip of a lifetime. We would love to have you join us if you have a good attitude about life, enjoy making new friends, and want to try something new!
INCLUDED HIGHLIGHTS
Catamaran snorkeling tour

Lobster Dinner on us!
REGULAR INCLUDED
Five nights accommodations

Airport transfers and all transportation on the itinerary

All fitness programming (includes bootcamps, yoga sessions and runs)

A majority of meals (7 breakfasts, 4 lunches and 3 dinners)

All drinks + specialty cocktails every night (or day, you can start whenever)

SYB Welcome package (including SYB swag as well as giveaways from our sponsors)

Services of SYB Adventure Leaders
Personal photographer + videographer
NOT INCLUDED
International + domestic flights

2 dinners in town

Drinks at outside bar

Lunches in town
ACCOMODATIONS
We are staying in a sexy chic hotel all bought out for us in San Pedro, Ambergris Caye, Belize. We've got our own bartender, beach and our own rules!
Can you handle it?
Almost everyday you can expect morning workouts, sunset yoga, optional runs, and since this is Belize - lots of water activities! You can always take it at your own pace, skip workouts or adventures and stay back at the house.
If you have an open mind and a sense of adventure we believe you can easily handle this advenure!
Going Alone
Yes, in fact that is recomended. We'd love you to be whoever you want on this adventure and bringing a friend could also bring old habits.
But we understand it is intimidating and hard because you feel like you don't know anyone... trust us, this is the way to go!
Flights
GENERAL RULE: Try to arrive in SPR (San Pedro, Ambergris Caye) around 3PM on November 26th. On December 1st, try to book flights out of SPR around 10AM. We will provide airport transportation for flights that are in these suggested times. Remeber there are two flights. First is the international one to BZE (Belize City International airport) and then to SPR (San Pedro airport).
IF YOU ARE TRAVELING FROM NYC: The NYC team will be flying as follows: TBA
Registration + Payment
Deposit: Your $500 deposit is used to secure your spot and goes toward your full payment. Your deposit is non-refundable or transferable.
The remaining balance is divided into three additional payments with the full payment due 30 days prior to the adventure's start date.
Trip credit (less deposit) may be transferred towards a future trip (within 12 months) up to 30 days prior to the start of the trip.
Please note that there are absolutely no refunds or deposit transfers for cancellations within 30 days of the trip. We strongly encourage all participants to purchase trip insurance just to be safe.
Where are we staying?
We are going to the SUNDIVER BEACH RESORT it is located in San Pedro, Ambergris Caye, Belize. This place is right on the beach, it has it's own volleyball court, bar, private beach area where we will be doing our workouts, and a central pool where you can expect nice recovery time. Find yourself at this address:
Self Care
We'll be doing some partying throughout this trip that require a bit of self awareness of the surrounding area. We'll keep a good eye on you, and we'll implement the buddy system but ultimately you are an adult and are responsible for yourself.
Dehydration is a common cause of feeling unwell. We require everyone to bring their own refillable water bottle and drink lots of water.
Avoid drinking too much alcohol. Nobody wants to have to look after a drunk person. We'll be waking up later in the day (no early morning wake up calls here) but you still want to avoid Ibiza hangovers. You don't want to miss out on the day activities if you are trying to recover from the night before!
Your skin will burn easily get the proper gear, and protection!
Safety and Security in the Region
There has been no incidents that we've heard of or come across that would have us concerned. You are safe in the area and very safe if you stay with us.
Sleeping Arrangements
We'll assign you to a room and roomate according to your pretrip form. Please let us know if there are any special requests.
Bathroom Situation
DO NOT FLUSH ANY PRODUCTS, INDCLUDING PAPER, DOWN THE TOILETS.
This is a kind of a third world country and the sewage is not the same as the US. There are waste baskets next to bathrooms, please use those.